To AppStore Sales είναι μία νέα must εφαρμογή για όλους τους iPhone developers.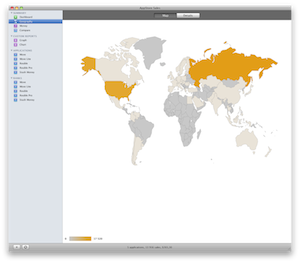 Το AppStore Sales θα σας βοηθήσει να παρακολουθείτε τα πάντα σχετικά με τις εφαρμογές σας στο AppStore, από τις πωλήσεις μέχρι και τις θέσεις τους στα ανά τον κόσμο Τops.
Features
Support of daily and weekly reports
Support of in-app purchases
Auto-download new daily reports from iTunes Connect
Support of multiple accounts
Support of multi-vendors accounts
Growl notifications
Count of new sales in dock badge
Summary reports for all applications
Detail information for each application
Many various graphs and charts
Geography of sales on world map
Custom reports
Export data in CSV format
Tracking ranks of applications in AppStore tops
Downloading customer reviews for applications
Η εφαρμογή στοιχίζει 29,95$ και μπορείτε να κατεβάσετε την δοκιμαστική έκδοση δύο εβδομάδων ή να την αγοράσετε από εδώ.
Συζήτηση στο Forum: AppStore Sales: Monitor the Sales of your Applications in AppStore