Το Handy Converter προσφέρεται δωρεάν για περιορισμένο χρονικό διάστημα!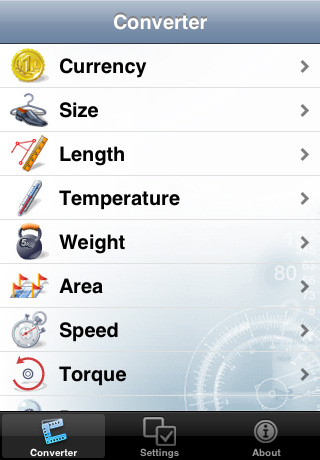 Handy Converter features:
– Updatable Currency Rates provided by Bank of Canada, European Central Bank or Central Bank of Russia – an Internet connection is required;
– Quick and easy conversion between different currencies;
– Conversion between different measurement systems. Switch instantly over linear, square, temperature, volume, weight, speed, torque, and power measures;
– Fast and clear clothing and shoe size conversions separately for men, women, and kids;
– About 100 conversion units including more than 30 world currencies and 7 major cloths size standards.
Συζήτηση στο forum: Handy Converter
About Vasilis Ananiadis
Ο ζωντανός θρύλος της Ελληνικής blogόσφαιρας, ο αβυσσαλέος master του SEO, o πρίγκηπας των Social Media, ο τυφώνας των Web Startups, ο οργασμός της ιντερνετικής επιτυχίας. Τώρα και στο twitter: @vananiadis
Tags: iPhone