Το Resupported είναι μία νέα εφαρμογή η οποία κυκλοφόρησε στο Cydia store και υπόσχεται πως λύνει το πρόβλημα με τα μη-συμβατά iPhone/iPod Touch AV cables και accessories!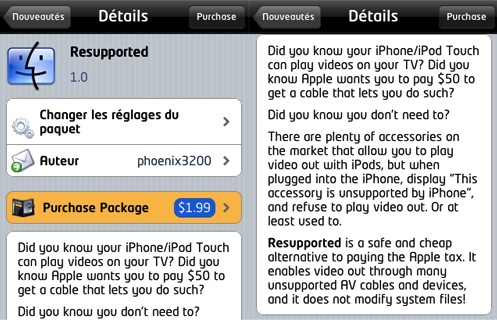 Did you know your iPhone/iPod Touch does video out? Did you know Apple wants you to pay $50 to get a cable that will play video out? Did you know you don't need to?
There are plenty of accessories on the market that allow you to play video out with iPods, but when plugged into the iPhone, display "This accessory is unsupported by iPhone", and refuse to play video out. Or at least used to.
Resupported is a safe and cheap alternative to paying the Apple tax. It enables video out through many unsupported AV cables and devices, it does not modify system files like other attempted hacks (e.g. replacing IAPD), and it actually works!
Το Resupported διατίθεται μέσω του Cydia store στην τιμή των $1.99
Συζήτηση στο forum: Resupported
About Vasilis Ananiadis
Ο ζωντανός θρύλος της Ελληνικής blogόσφαιρας, ο αβυσσαλέος master του SEO, o πρίγκηπας των Social Media, ο τυφώνας των Web Startups, ο οργασμός της ιντερνετικής επιτυχίας. Τώρα και στο twitter: @vananiadis
Tags: iPhone