Το PositionApp είναι μία νέα εφαρμογή η οποία αναπτύχθηκε από τους ustwo σε συνεργασία με την AdMob και υπόσχεται να φέρει χρήσιμα αποτελέσματα στα χέρια των iPhone developers μέσα από ένα όμορφο και εύχρηστο GUI: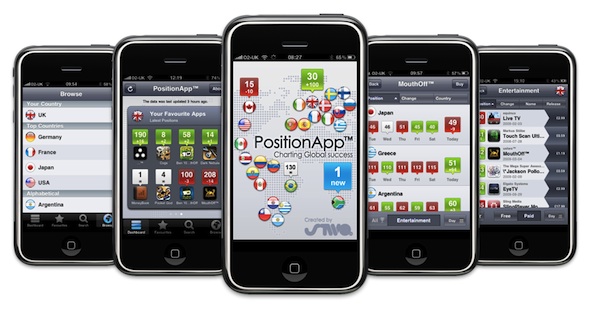 • Up to date country-by-country position performance stats on the top 300 apps.
• 6 months of historic position data.
• Browse by: country, genre, position change, app name, free & paid, day, week or month.
• Track selected favourites on your personal dashboard.
• Highlighting the biggest climbers in the top 100 and the top 300.
• Easily find, purchase and share any top 300 app charting data.
[iTunes link – Τιμή: Δωρεάν]
Συζήτηση στο forum: PositionApp
About Vasilis Ananiadis
Ο ζωντανός θρύλος της Ελληνικής blogόσφαιρας, ο αβυσσαλέος master του SEO, o πρίγκηπας των Social Media, ο τυφώνας των Web Startups, ο οργασμός της ιντερνετικής επιτυχίας. Τώρα και στο twitter: @vananiadis
Tags: iPhone