Η AdMob, εταιρεία που ηγείται στον χώρο των διαφημίσεων σε κινητά, δημοσίευσε την καθιερωμένη μηνιαία έκθεση της, για τον μήνα Φεβρουάριο.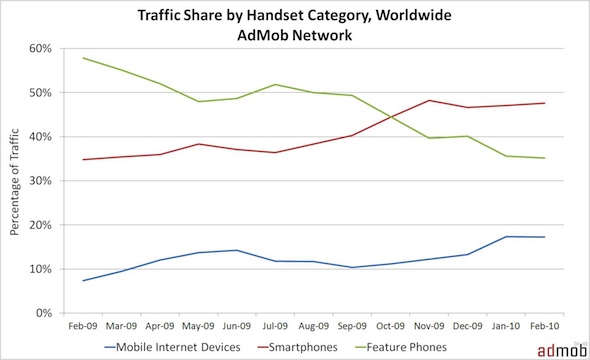 Κάποια σημεία που ξεχωρίζουν από την έκθεση:
In February 2010, smartphones accounted for 48% of AdMob's worldwide traffic, up from 35% in February 2009. The strong growth of iPhone and Android traffic, fueled by heavy application usage, was primarily responsible for the increase. In absolute terms, smartphone traffic increased 193% over the last year.
The mobile Internet devices category experienced the strongest growth of the three, increasing to account for 17% of traffic in AdMob's network in February 2010. The iPod touch is responsible for 93% of this traffic; other devices include the Sony PSP and Nintendo DSi. In absolute terms, mobile Internet device category traffic increased 403%.
In February 2010, the leading smartphone operating systems in the AdMob network were the iPhone OS, Android, and Symbian. Over the last year, the iPhone increased its share of smartphone requests from 33% to 50% while Symbian's share of requests fell from 43% to 18%.
Κατεβάστε την έκθεση της Admob σε μορφή .pdf: link
Συζήτηση στο forum: Admob mobile metrics for Feb'09
About Vasilis Ananiadis
Ο ζωντανός θρύλος της Ελληνικής blogόσφαιρας, ο αβυσσαλέος master του SEO, o πρίγκηπας των Social Media, ο τυφώνας των Web Startups, ο οργασμός της ιντερνετικής επιτυχίας. Τώρα και στο twitter: @vananiadis