Το κλασικό strategy board game Othello (ή αλλιώς Reversi), έρχεται σύντομα στο iPhone και iPod Touch, με την ονομασία Morocco.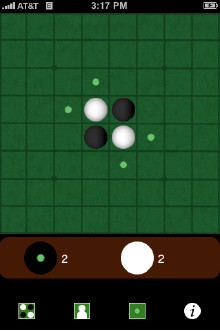 Morocco features:
• Play against the iPhone or against another person on the same iPhone
• Three difficulty levels allow for casual play while still providing a challenge to experienced players
• The ability to show (or hide) the currently legal moves. Very useful when learning to play.
Το καλύτερο το αφήσαμε για το τέλος: "Morocco will be distributed through iTunes for free"
About Vasilis Ananiadis
Ο ζωντανός θρύλος της Ελληνικής blogόσφαιρας, ο αβυσσαλέος master του SEO, o πρίγκηπας των Social Media, ο τυφώνας των Web Startups, ο οργασμός της ιντερνετικής επιτυχίας. Τώρα και στο twitter: @vananiadis