"We are Apple. We don't wear suits. We don't even own suits": Aυτό απάντησε εκπρόσωπος της Apple όταν του ζητήθηκε να μεταφέρει στον Steve Jobs την επιθυμία στελεχών της AT&T να φορέσει o CEO της Apple κουστούμι κατά τη συνάντησή του με τα μέλη του διοικητικού συμβουλίου.
Αυτό ισχυρίζεται, τουλάχιστον, το WIRED σε αφιέρωμα που διηξήγαγε για τις σχέσεις μεταξύ της Apple και της AT&T. Eν ολίγοις, οι δύο εταιρείες δεν αντέχουν η μία την άλλη.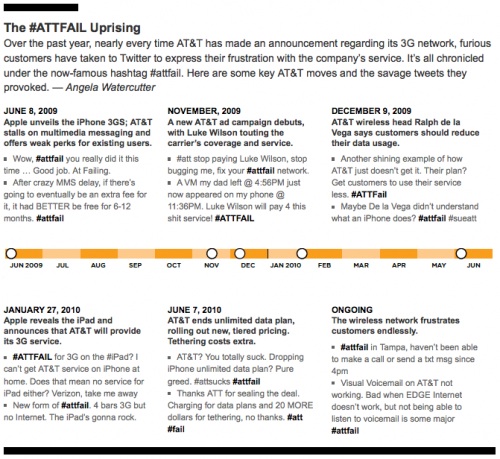 Είναι γνωστό το πρόβλημα στις ΗΠΑ με το δίκτυο της AT&T και της δυσκολίας που αντιμετώπιζει να καλύψει τις απαιτητικές ανάγκες των χρηστών iPhone. H AT&T μάλιστα έπρεπε να υπερβεί πολλά εμπόδια στους πρώτους μήνες κυκλοφορίας του πρώτου iPhone και ζήτησε τη συνδρομή της Apple ώστε να τη βοηθήσει με πλάγιους τρόπους περιορίζοντας τις δυνατότητες σερφαρίσματος του χρήστη. Φυσικά, η Apple αρνήθηκε.
"[…]Rinne, who had already met with Apple's iPhone team at least half a dozen times, fully expected the company to play along.[…]But in meetings with Apple engineers and marketers over the subsequent year, Rinne and other AT&T executives discovered that Apple wasn't playing by traditional wireless rules.For Apple, the idea of restricting the iPhone was akin to asking Steve Jobs to ditch the black turtleneck."
Kάποιος από την Apple αναφέρει:
"They tried to have that conversation with us a number of times. We consistently said 'No, we are not going to mess up the consumer experience on the iPhone to make your network tenable.' They'd always end up saying, 'We're going to have to escalate this to senior AT&T executives,' and we always said, 'Fine, we'll escalate it to Steve and see who wins.' I think history has demonstrated how that turned out."
Η ΑΤ&Τ πάντως προσπαθεί να βελτιωθεί ξοδεύοντας $37δις από τότε που ανέλαβε το iPhone και αναμένεται να επενδύσει άλλα $13.5 δις το 2010. Έχει να αντιμετωπίσει, βέβαια, και την νομοθεσία στις ΗΠΑ όπου σε κάποιες πολιτείες, όπως στο Σαν Φρανσίσκο, η εγκατάσταση μιας νέας κεραίας είναι θέμα τριών χρόνων ενώ στο Τέξας μόλις τριών εβδομάδων. Οι φιλότιμες προσπάθειες, όμως, της AT&T δεν έχουν αποτρέψει τον Steve Jobs από πάμπολλες περιπτώσεις θυμού και σκέψεων φυγής από το δίκτυο.
Η ΑΤ&Τ από την άλλη νιώθει πως η Apple δεν έχει επομιστεί την ευθύνη που της αντιστοιχεί. Για παράδειγμα, μεγάλο ποσοστό των dropped calls οφειλόταν στο γεμάτο bugs software της baseband αλλά και στην απόφαση της εταιρείας να εξοπλίσει το iPhone με τσιπ της Infineon, που χρησιμοποιείται ευρέως μεν στην Ευρώπη όπου η απόσταση των κεραιών είναι μικρότερη αλλά στις ΗΠΑ δεν αποδίδει το ίδιο καλά. Η ΑΤ&Τ είχε αναλάβει όλη την ευθύνη:
"We'd say, 'Let's resolve these issues together,' and they'd say, 'No, you resolve them. They're not our problem. They're your problem.'"
Αναμφίβολα, η συνεργασία μεταξύ Apple και AT&T αποτελεί πρώτυπο οικονομικής επιτυχίας. Ωστόσο, καμιά φορά  η υστεροφημία διαδραματίζει σημαντικότερο ρόλο από την οικονομική επιτυχία.
Τα πράγματα μεταξύ των δύο εταιρειών δεν ήταν καλά από την αρχή. Μάλιστα, πολύ λίγα υψηλόβαθμα στελέχη της AT&T είχαν δει το iPhone από κοντά λίγο πριν την παρουσίασή του το Γενάρη του 2007 καθώς ο Steve Jobs αρνούνταν να το δείξει.
Μια άλλη διαμάχη μεταξύ των δύο εταιρειών ήταν σχετικά με το tethering, με τον Steve Jobs να γίνεται έξαλλος!
"The two were still wrestling with the problem at the end of 2008, when AT&T wireless boss Ralph de la Vega told Web 2.0 Summit attendees in San Francisco that tethering would be coming to the iPhone "soon." Even though Apple had been pushing for tethering, Jobs was furious that De la Vega would make such a momentous announcement before a deal was in place — and without consulting Apple. He even ended a high-level meeting days later with a rant about it. Jobs "was absolutely livid," a witness says. "He paced around the room for five minutes talking about what an incredibly stupid company AT&T was and how frustrating it was to do business with them. Then, when he was done, he said, 'I'm going to go call Ralph and yell at him.'"
Το άρθρο αναφέρει, επίσης, ότι η δυσαρέσκεια της Apple ήταν τόσο μεγάλη που λίγους μήνες μόλις μετά την κυκλοφορία του iPhone ο Steve Jobs ζήτησε από τους μηχανικούς τους να ερευνήσουν την πιθανότητα αλλαγής στη Verizon.
"The group — which included iPhone software boss Scott Forstall — took the job seriously, even visiting the San Diego headquarters of Qualcomm, the company that supplies the chips for Verizon phones. But in the end, switching to Verizon would have been just too complicated and expensive. The new chips were a different size, which would require Apple basically to rebuild the iPhone from scratch. Meanwhile, changing carriers could mean voiding AT&T's exclusivity agreement and inviting a nasty lawsuit. And it wasn't clear that Verizon would be an improvement; at the time, it wasn't any better equipped than AT&T to deal with the iPhone's bandwidth demands.

Jobs and his team would continue to discuss switching to Verizon, but these were always short conversations. "Every time the issue of switching came up, it always seemed to cause as many problems as it solved," according to a source who attended some of these meetings.

Meanwhile, no matter how frustrated AT&T got with Jobs, it had little choice but to stand by him. It would have been devastating to lose the iPhone after investing billions of dollars and endless reputational capital. And so the relationship carried on, dysfunctional and loveless though it was. Divorce, at least for the time being, was not an option."
Συζήτηση στο forum: "We are Apple. We don't wear suits. We don't even own suits"