Με το Plum Record μπορείτε να ηχογραφήστε εύκολα συνεντεύξεις, διαλέξεις, τραγούδια, λίστες για ψώνια, ιατρικά σημειώματα, ήχους αυτοκινήτων, στίχους κ.α. απευθείς στο iPhone σας.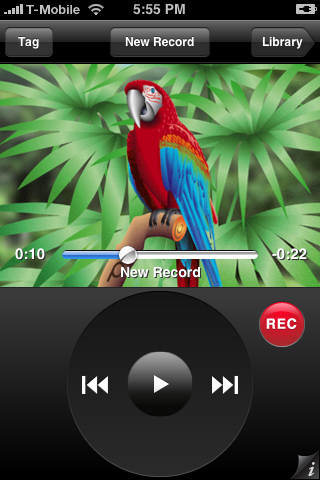 Οι ηχογραφημένοι ήχοι μπορούν να γίνουν tagged με φωτογραφίες και κείμενα, τα οποία στη συνέχεια μπορούν να γίνουν bookmarks επιτρέποντας μας να μεταβαίνουμε σε διαφορετικά σημεία του ήχου άμεσα.
 Plum Record features:
* Record, pause, continue, rewind easily using familiar controls
* See elapsed time and time remaining.
* A very familiar interface and controls.
* Files named automatically, rename sound files easily.
* Library to keep sounds in and arrange in folders.
* Create hot tagged (colored) folders for sounds.
* Folders and sounds can be selected and deleted or rearranged by dragging.
* Sound levels meter and displays peak.
* Tag sounds quickly with multiple photos or instances of text.
* Easy to use and view even outdoors. 
* Plum Record Server to transfer even big files to your Mac and soon Win and Linux.
* Works with larger interface in rotated mode.
* Choose the sampling rate for high or low res files.
* Change the skin/interface for recording.
* Change files recorded on the iPhone to other formats like WAV, MP3, MP4, AAC, 3GP, AC3, AIFC, AIFF, AMR, Next/Sun, Sound Designer II, 3GPP2, etc.
* Doesn't use a microphone for an icon. :)
* Big surprises on the way…
[Thanks to zaccki]
Το Plum Record είναι διαθέσιμο μέσω του App store [link] στην τιμή των 3,99€.
Περισσότερες πληροφορίες μπορείτε να βρείτε στο forum:
Plum Record : Audio-Photo-Text Recording
About Vasilis Ananiadis
Ο ζωντανός θρύλος της Ελληνικής blogόσφαιρας, ο αβυσσαλέος master του SEO, o πρίγκηπας των Social Media, ο τυφώνας των Web Startups, ο οργασμός της ιντερνετικής επιτυχίας. Τώρα και στο twitter: @vananiadis
Tags: iPhone 3G