Διαθέσιμο είναι η συνέχεια του Need for Speed Shift 2 Unleashed, ενός από τα καλύτερα παιχνίδια αγώνων για iPhone και iPod touch μέσω του App Store.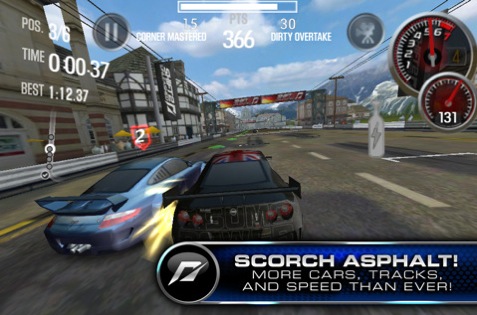 To νέο παιχνίδι προσφέρει τρεις νέες πίστες με δυνατότητα ξεκλειδώματος νέου περιεχομένου και αποκλειστική συμμετοχή του Pagani Huarya.
THREE NEW LOCATIONS
Now whip through the trees of The Black Forest, the deserts of Abu Dhabi, and the waterfronts of Rio as you fight to the finish line. Feel every scrape, bump, and burn out with vividly rendered visuals.


SEATBELT REQUIRED
You're in the cockpit with the helmet cam: push it to the limit with realistic racing controls that simulate the visceral velocity of being behind the wheel at 200mph.

UNLEASH NEW CONTENT
Test your skills on more than 20 Quick Race Trials featuring 40 of the hottest cars, including the exclusive Pagani Huayra! Run the Circuit with multiple game modes and over 40 events.


CUSTOMIZED RIDES
Earn credits and upgrade your car's acceleration, tires, and suspension. Power up with nitrous boosts, and personalize your car with spoilers, rims, specialized paint jobs, and body kits.
Experience racing evolved and unleash your inner driver with SHIFT 2 Unleashed!
Μπορείτε να κατεβάσετε το Need for Speed Shift 2 Unleashed στο App Store [link] στην τιμή των 2.39€
Σχολιασμός στο forum