To i-Clickr PowerPoint Remote είναι μία εφαρμογή με την οποία μπορείτε εύκολα να κάνετε παρουσιάσεις σε PowerPoint χρησιμοποιώντας το iPhone σας (απαιτείται Wi-Fi)!
Το i-Clickr PowerPoint Remote είναι συμβατό με ΜS Office XP,2003,2007 αλλά και με Office Mac 2008!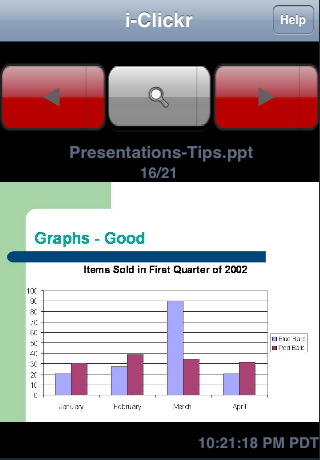 Features:
– Complete control of your PowerPoint slides including animations.
– Help you track your presentation time.
– Make and show annotations directly on your iPhone/iPod (Windows only).
- Alert you with silent buzz before your time runs out.
– View your slides and your slide notes on your handset.
– Easy to set up with zero configuration.
– Native support both iPhone and iPod Touch.
– Support all versions of PowerPoint from Office XP to the latest PowerPoint 2007 on Windows.
– Support Office Mac 2008 on Mac OS X Leopard.
[Thanks to zaccki]
Περισσότερα στο forum: i-Clickr PowerPoint Remote
About Vasilis Ananiadis
Ο ζωντανός θρύλος της Ελληνικής blogόσφαιρας, ο αβυσσαλέος master του SEO, o πρίγκηπας των Social Media, ο τυφώνας των Web Startups, ο οργασμός της ιντερνετικής επιτυχίας. Τώρα και στο twitter: @vananiadis
Tags: iPhone 3G