Το WhatTheFont for iPhone είναι μία εφαρμογή η οποία φέρνει την υπηρεσία WhatTheFont του myfonts.com (οι graphic designers πιθανώς να την έχουν χρησιμοποιήσει κάποια στιγμή) στο iPhone!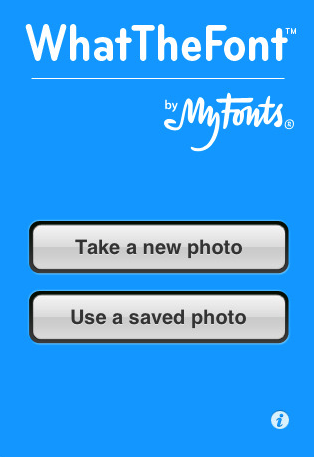 Identify the fonts in a photo or web graphic!
Ever seen a great font in a magazine ad, poster, or on the web and wondered what font it is? Whip out your iPhone and snap a photo, and WhatTheFont for iPhone will identify that font in seconds!

Instant gratificationWhatTheFont for iPhone connects directly to MyFonts' acclaimed font identification service, which has been helping customers pinpoint mystery fonts for 10 years. It works via Wi-Fi or the mobile phone network, so you can get your font fix right there on the spot.
Equal opportunity
iPod touch users — you may not have a camera, but you can still get in on the action! WhatTheFont for iPhone will identify fonts in images saved from apps such as Safari and Mail.
Features
– Snap a photo right within the app
– Choose saved photos from the Photo Library
– In-phone image processing optimizes upload for speed and accuracy
– View font details in Safari or e-mail a link to yourself
[iTunes link – Τιμή: Δωρεάν]
Συζήτηση στο forum: WhatTheFont for iPhone
About Vasilis Ananiadis
Ο ζωντανός θρύλος της Ελληνικής blogόσφαιρας, ο αβυσσαλέος master του SEO, o πρίγκηπας των Social Media, ο τυφώνας των Web Startups, ο οργασμός της ιντερνετικής επιτυχίας. Τώρα και στο twitter: @vananiadis
Tags: iPhone, iPhone 3G, iPod Touch 2G