Η IdSoftware έδωσε σε ελεύθερη κυκλοφορία το source code για το Wolfenstein (open source), και ο ZodTTD το μετέφερε στο iPhone, με την ονομασία "Wolf3D"!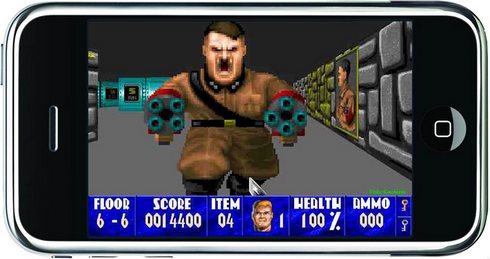 Achtung! Play the legendary original game that launched the First Person Shooter genre. You are OSA super agent B.J. Blazkowicz and you must escape from Castle Wolfenstein and defeat the twisted Nazi regime!
– Wolfenstein 3D Classic is non-stop action and all of the memorable enemies are there for you to conquer from Hans Grosse to MechaHitler!
– Includes all six original episodes with 60 classic levels and unforgettable weapons like the brutal chain gun
– Choose clever new touch controls or drive with the tilt controls to halt the diabolical Nazi schemes.
Το Wolfenstein (idSoftware Wolf3D) είναι διαθέσιμο από το Cydia repo του ZodTTD.
Σημείωση: το "Wolfenstein 3D Classic" κυκλοφορεί επίσημα και στο Appstore, με τιμή 3,99 ευρώ.
Συζήτηση στο forum: Wolf3D: Wolfenstein for iPhone
About Vasilis Ananiadis
Ο ζωντανός θρύλος της Ελληνικής blogόσφαιρας, ο αβυσσαλέος master του SEO, o πρίγκηπας των Social Media, ο τυφώνας των Web Startups, ο οργασμός της ιντερνετικής επιτυχίας. Τώρα και στο twitter: @vananiadis
Tags: iPhone, iPhone 3G, iPod Touch 2G