Όπως είχαμε αναφέρει την προηγούμενη εβδομάδα (βλ. Skype: iPhone version coming next week) η iPhone version του Skype θα είναι διαθέσιμη από αύριο Τρίτη 31 Μαρτίου, στο Appstore!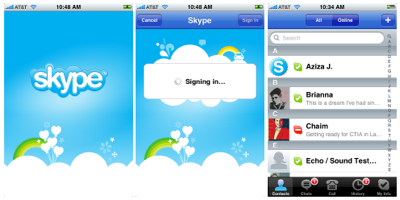 Skype for iPhone features:
– Change the status online
– Retrieve your contact section (Skype intergration)
– See other user's profiles
– Send a personal message as a sentence
– Purchase Skype Out credit directly from iPhone
Δυστυχώς, τα πρώτα reviews κάνουν λόγο για:
– Αποκλειστική χρήση μέσω WiFi
– Αδυναμία αποστολής/λήψη SMS μέσω της εφαρμογής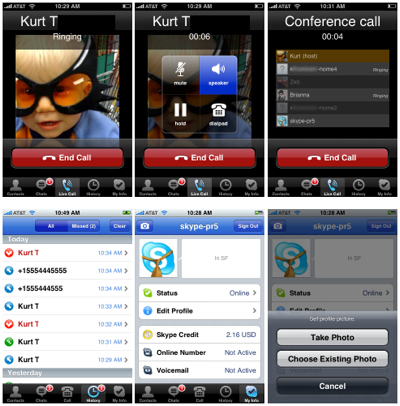 [Via cnet.com]
Update! (31/03/09) Το Skype kυκλοφόρησε στο Appstore
Skype is free calls and instant messages. And you can call landlines and mobiles anywhere in the world at great rates. Skype is free to download and easy to use.

*Free Skype-to-Skype calls

With Skype on your iPhone or iPod touch, simply sign into Skype from any WiFi zone, and call friends and family on Skype totally free.

*See who's online and instant message them

Sign into Skype via 3G, Edge, GPRS or WiFi and check who's online – then instant message them whenever and where the mood strikes.
[iTunes link – Τιμή: Δωρεάν]
Συζήτηση στο forum: Skype on iPhone
About Vasilis Ananiadis
Ο ζωντανός θρύλος της Ελληνικής blogόσφαιρας, ο αβυσσαλέος master του SEO, o πρίγκηπας των Social Media, ο τυφώνας των Web Startups, ο οργασμός της ιντερνετικής επιτυχίας. Τώρα και στο twitter: @vananiadis