Το DigiTimes δημοσίευσε μία αναλυτική λίστα στην οποία αναφέρονται οι προμηθευτές και τα components του αναμενόμενου νέου iPhone: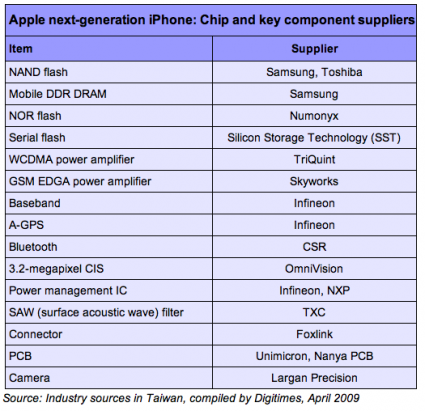 "TSMC have landed foundry orders for GSM EDGE power amplifiers, Bluetooth ICs and 3.2-megapixel OmniVision CMOS image sensor (CIS) used in the upcoming iPhone model, indicated the sources. Xintec will handle the packaging and testing service for the CIS whereas VisEra will manufacture on-chip color filters for the CIS."
[Via DigiTimes]
Συζήτηση στο forum: Next-gen iPhone: Chip and key component suppliers
About Vasilis Ananiadis
Ο ζωντανός θρύλος της Ελληνικής blogόσφαιρας, ο αβυσσαλέος master του SEO, o πρίγκηπας των Social Media, ο τυφώνας των Web Startups, ο οργασμός της ιντερνετικής επιτυχίας. Τώρα και στο twitter: @vananiadis
Tags: "iPhone3.0"