To QuickScroll 0.1-12b, ένα iPhone utility του KennyTM~ που βελτιώνει το scrolling, κυκλοφόρησε πριν από λίγες ημέρες στο BigBoss repository και μάλιστα δωρεάν.
Κάνοντας τριπλό άγγιγμα οπουδήποτε στην οθόνη (ή αγγίζοντας με το ένα δάχτυλο και κάνοντας τριπλό άγγιγμα ταυτόχρονα με κάποιο άλλο ώστε να αποφύγετε το zoom) εμφανίζεται το παράθυρο του QuickScroll στο οποίο μετακινώντας το πράσινο πλαίσιο μπορείτε να μεταφερθείτε οπουδήποτε στην οθόνη.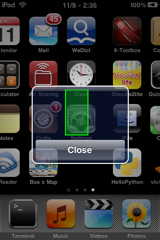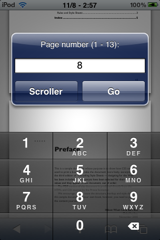 Improvements:
– Activate QuickScroll from anywhere, like web pages, long text views, tables, MobileTerminal, SpringBoards, just anywhere you can scroll.
– Jump to any page in a PDF file.
– Rotating from portrait to landscape position no longer makes the "Close" button unreachable.
– The alert box is now smaller.
– Language support for English, Spanish, Italian (thanks Sagitt for a few translations), Japanese, and Chinese (T+S).
– Can scroll to the top in MobileNotes now.
– Now the triple tap will iterate all touches, eliminating any possibility that a triple tap (that ought to be caught) is missed.
– QuickScroll will be suppressed on non-scrollable views.
– QuickScroll (PDF paging) will be suppressed on PDF files with 0 pages (usually those incomplete files).
[Via code.google.com]
Συζήτηση στο forum: QuickScroll for iPhone
Tags: iPhone, iPhone 3G, iPhone 3GS, iPod Touch 2G