Το 'Asphalt 5′, ένα από τα πολυαναμενόμενα racing games για το iPhone, κυκλοφόρησε πριν από λίγα λεπτά στο App store: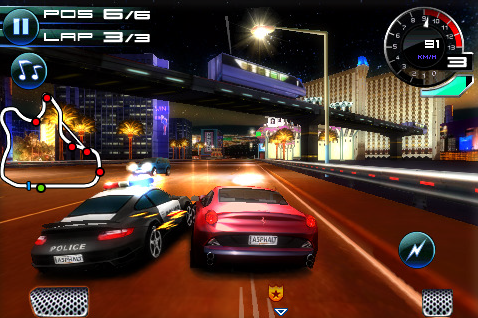 • Get behind the wheel of over 30 vehicles from prestigious manufacturers (Ferrari, Lamborghini, Audi, Ducati)
• Race in 12 unique locations including St. Tropez, Aspen and Las Vegas, with varied track surfaces, short cuts and spectacular jumps.
• Bluetooth and Online Multiplayer: Chat with opponents in online lobbies before the race, take part in tournaments and in the Asphalt Academy!
• Play your own music from your iPhone/iPod touch library during the race!
Παρακολουθήστε το video trailer του "Asphlat 5":
[iTunes link – Τιμή: 5.49€]
Συζήτηση στο forum: "Asphalt 5″ for iPhone
About Vasilis Ananiadis
Ο ζωντανός θρύλος της Ελληνικής blogόσφαιρας, ο αβυσσαλέος master του SEO, o πρίγκηπας των Social Media, ο τυφώνας των Web Startups, ο οργασμός της ιντερνετικής επιτυχίας. Τώρα και στο twitter: @vananiadis
Tags: iPhone, iPhone 3G, iPhone 3GS