Η Gameloft κλείνει τα 10 χρόνια και το γιορτάζει προσφέροντας δωρεάν games στο App store!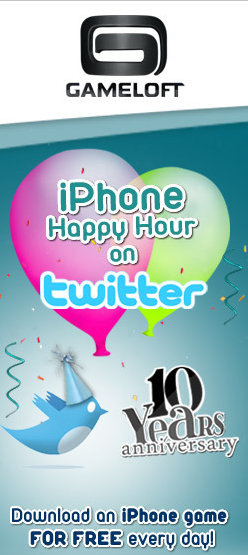 Από τις 10 εώς και τις 21 Μαϊου η Gameloft θα ανακοινώνει μέσω του twitter account της το δωρεάν παιχνίδι της ημέρας ΩΣΤΟΣΟ η προσφορά θα ισχύει ΜΟΝΟ για 2 ώρες από την στιγμή της ανακοίνωσης.
Το επίσημο ανακοινωθέν από την Gameloft:
Gameloft turns 10 years old this month, and because this is such a special event we've decided to launch our "iPhone Happy Hour" to celebrate with all our fans out there.
What this means is that for 2 hours every day from May 10th to May 21st (except weekends), one of our iPhone/iPod touch games will be available for free! Yes, you're reading it correctly, FREE! It's our birthday but we're the ones offering you presents – 10 great iPhone games!
We won't reveal the 10 games or what times we'll offer them in advance so follow us on Twitter at http://twitter.com/gameloft to find out. Don't miss the daily tweet because the time of the Happy Hour will change every day and you'll have only 2 hours to get your game!
Enjoy our iPhone Happy Hour!
Εγγραφείτε λοιπόν στο twitter και ακολουθήστε (follow) την Gameloft ώστε να ενημερωθείτε εγκαίρως για την προσφορά της ημέρας!
Φυσικά, εφόσον αποφασίσετε να εγγραφείτε στο twitter, δεν θα λησμονήσετε να κάνετε follow και το iPhoneHellas ώστε να ενημερώνεστε άμεσα για τις τελευταίες εξελίξεις γύρω από τον χώρο του iPhone του iPad και του iPod Touch :-)
Συζήτηση στο forum: Gameloft's "iPhone Happy Hour"
You might also like
---
More from App store Deals
---
2.7K
Το Enlight της Lightricks Ltd., μία εκ των κορυφαίων  εφαρμογών επεξεργασίας φωτογραφίας, προσφέρεται δωρεάν για περιορισμένο χρονικό διάστημα! To Enlight έχει βραβευτεί με Apple Design Award το 2017  ενώ το 2015 ήταν "Εφαρμογή της Χρονιάς" στα App store της Αγγλίας, Αυστραλίας, Γερμανίας, Καναδά, …
Editor Picks
---