Το iDracula είναι ένα νέο game του οποίου τα screenshots αλλά και το Gameplay video μας ενθουσίασαν. Όπως δηλώνει ο Chillingo, developer του  iDracula και δημιουργός του "Orions: Legend of Wizards":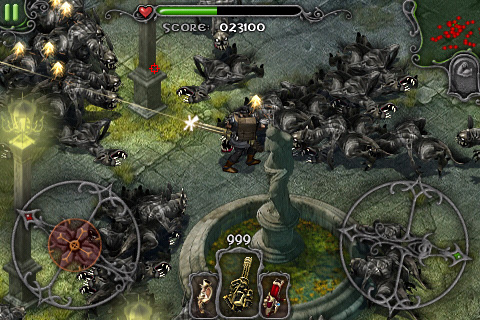 It's actually a survival shooter. You begin with a simple gun and slow/weak monsters, and as the time passes, they grow stronger and faster, dropping better weapon. You will also be able to gain "perks", as you earn enough experience. There are 6 different weapons – Gun, Rifle, Crossbow, Grenade Launcher, Machine Gun and BFG (yes, it's big). We have also implemented a very nice multitouch controls, so you're like using two sticks to control a hero, and it's very cool. It is also the most intense game in the appstore.

This is not a RPG kind of game by any means. It has no storyline, no NPC, no other locations. It is actually the same genre as Crimsonland or Alien Shooter on a PC – only one level, but a lot of replayability to beat the high score. There's also a Perk system like the one in Crimsonland or Fallout, it adds to replayability, too.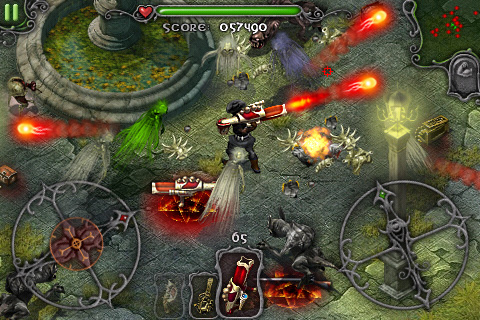 However, it's just amazingly fun – the video is on early stages of the game, and doesn't show the real fun behind.

The game will initially have one level (come on, it's .99), however the update will be released in less than 2 weeks. This update will include more monsters, two new levels and probably new game modes. Probably more perks and some other features too.

Also, please understand that $.99 price is the introductory price, while the normal price is $2.99.
We are also considering a "premium" version of the game, which will include a RPG-like system, a story, lots of levels and different actions (and obviously, a higher price).
Παρακολουθήστε το Gameplay video του iDracula:

Το iDracula αναμένεται να κυκλοφορήσει στο Appstore στις 20 Φεβρουαρίου με τιμή γνωριμίας 0.79€
[Via toucharcade]

Συζήτηση στο forum: iDracula
You might also like
---
More from Appstore
---
14.2K
Αν και δεν έχει έχει ανακοινωθεί επίσημα από το Facebook, μπορείτε να ενεργοποιήσετε το Dark Mode στο Facebook Messenger, με έναν πολύ απλό τρόπο: Ανοίξτε μια συνομιλία σας με οποιαδήποτε επαφή σας στο Facebook Messenger και αποστείλτε το emoji του φεγγαριού (🌙). Αμέσως, θα σας εμφανιστεί …
Editor Picks
---