Μία από τις χρησιμότερες εφαρμογές για το iPhone, το BossPrefs, αναβαθμίστηκε στην έκδοση 1.71 και σας δίνει την δυνατότητα να 'ξεφορτωθείτε' 2 apps, τo Poof και το iReBoot, καθώς έχει αφομοίωσει πλήρως τις λειτουργίες τους!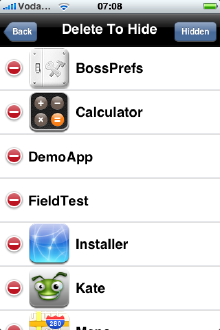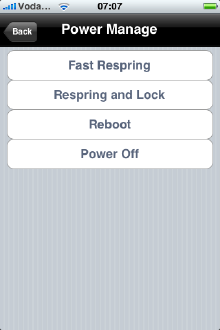 Όσοι χρησιμοποιείτε το Poof μπορείτε πλέον να το κάνετε unistall καθώς το νέο BossPrefs διαθέτει την λειτουργία εξαφάνισης επιλεγμένων εικονιδίων από το Springboard.
Επιπλέον όσοι έχετε εγκατεστημένο το iReboot μπορείτε να το απεγκαταστήσετε μιας και το BossPrefs πλέον σας παρέχει τις ίδιες δυνατότητες: Fast Respring, Full locking respring, Reboot και Power off!
Διαβάστε αναλυτικότερα τις αλλαγές που φέρνει η v1.71:
Integrated "Poof" into the dock as a button called "Hide Icons". The actual Poof App can be uninstalled now.To use Poof features, just tap the "hide icons" button then tap apps to hide from springboard. To show them again, tap the "hidden" button and delete the apps to show. Simple!

Note: hidden apps are not restored if bossprefs is uninstalled so make sure you unhide your icons first.

Added an internal dock icon called "Power" that lets you quick respring, respring, reboot, and power off.
Added support for poof hidden icon rehiding. This means after you do an update of a hidden app in installer or cydia, and the icon is back on spring board, just load bossprefs and close it immediately and it will rehide all your icons again.
Added a config toggle to show and not show built in Poof and Power icons on dock. Default is to show them.
Installer source: (BigBoss) http://iphone.sleepers.net
About Vasilis Ananiadis
Ο ζωντανός θρύλος της Ελληνικής blogόσφαιρας, ο αβυσσαλέος master του SEO, o πρίγκηπας των Social Media, ο τυφώνας των Web Startups, ο οργασμός της ιντερνετικής επιτυχίας. Τώρα και στο twitter: @vananiadis
Tags: Installer