Το NetShare είναι μία εφαρμογή για το iPhone η οποία κυκλοφόρησε και αποσύρθηκε την ίδια ημέρα από το App store! Για την ακρίβεια, πρόλαβε να μείνει διαθέσιμο προς αγορά, μόλις 18 λεπτά!
Το NetShare επιτρέπει την πρόσβαση στο internet από το Mac ή το Pc σας, χρησιμοποιώντας (μέσω SOCKS5 proxy) το internet connection του iPhone (3G ή EDGE). Με το τρόπο αυτό κάποιος χρήστης με απεριόριστο data plan θα μπορούσε να έχει δωρεάν internet και για το Pc/laptop του!
Μερικά χρήσιμα δεδομένα: Η ΑΤ&Τ ΔΕΝ υποστηρίζει tethering για το iPhone.
Μερικά (αναπάντητα προς το παρόν) ερωτήματα: Πως βρέθηκε εξαρχής η εφαρμογή στο App store; Δεν πέρασε από τον έλεγχο της Apple; Ευθύνεται η AT&T για την απόσυρση της εφαρμογής;
Nullriver's responce:
We're not quite sure why Apple took down the application yet, we've received no communication from Apple thus far. NetShare did not violate any of the Developer or AppStore agreements. We're hoping we'll get some feedback from Apple tomorrow. Sorry to all the folks that couldn't get it in time. We'll do our best to try to get the application back onto the AppStore if at all possible. At the very least, I would hope Apple will allow it in countries where the provider does permit tethering.
Για το μικρό διάστημα στο οποίο ήταν διαθέσιμο, το NetShare κόστιζε $9.99.
Εάν κάποιος χρήστης πρόλαβε να το αγοράσει ή να το 'κατεβάσει' από κάπου αλλού, μπορεί να ενημερωθεί για το πως ακριβώς θα το χρησιμοποιήσει από το παρακάτω αναλυτικό Tutorial:
UPDATE: Το NetShare είναι και πάλι διαθέσιμο: NetShare – App Store
Step 1: Set up your a network using Airport call it whatever you like, I called mine iPhone Tether. You can protect yours if you wish I was in a rush so I didn't.
Step 2: Open up System Prefs, go to Network select Airport (on the left side). I set up a location also called iPhone Tether you don't have to. Don't worry if you don't have the same settings as me just make sure you have created the network from your mac. Select Advanced.
Step 3: Under TCP/IP select using DHCP with manual address then enter any IP for your Mac. I used the one suggested by NetShare.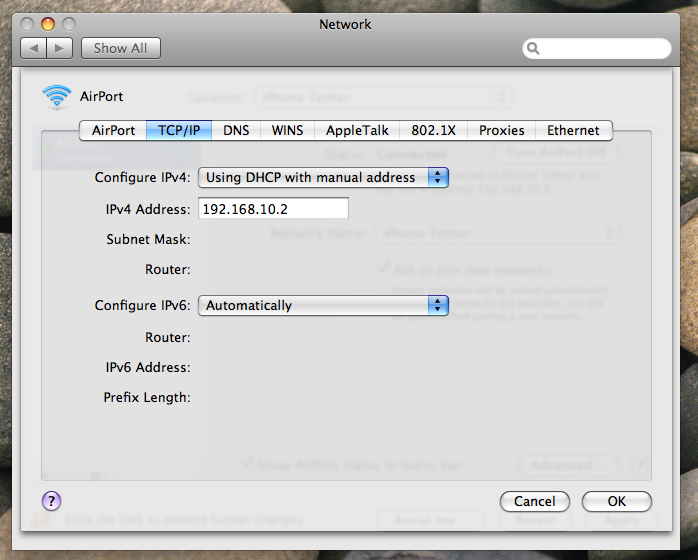 Step 4: Select Proxies and tick SOCKS Proxy. In the SOCKS proxy server enter a similar IP address as your Mac's one this will be your iPhone's IP.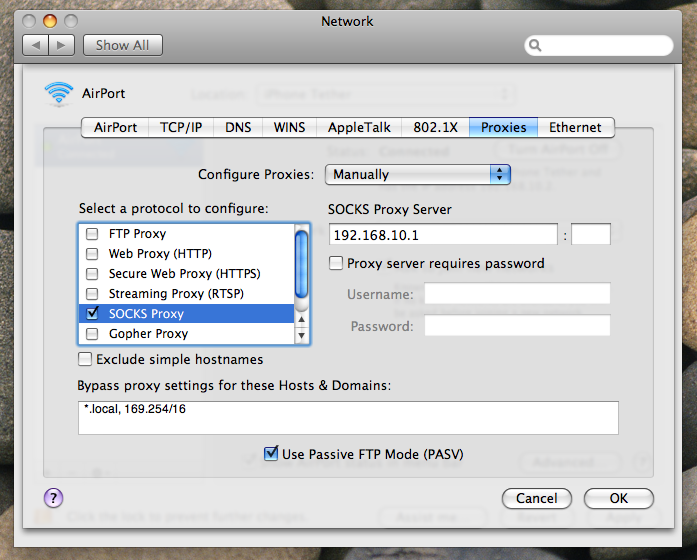 Step 5: Click OK and then click Apply in System Prefs.
Step 6: Under Settings on your iPhone select Wi-Fi and connect to the network you just created. Tap the little blue arrow next to the Network name.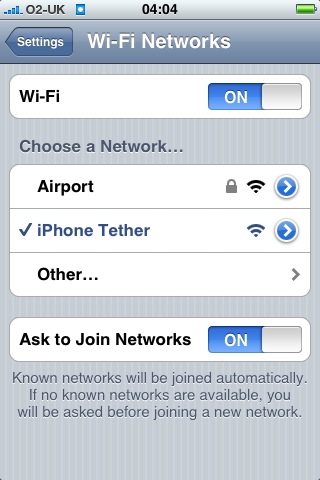 Step 7: Go to Static. Enter the same IP address for your iPhone that you put in the SOCKS Proxy.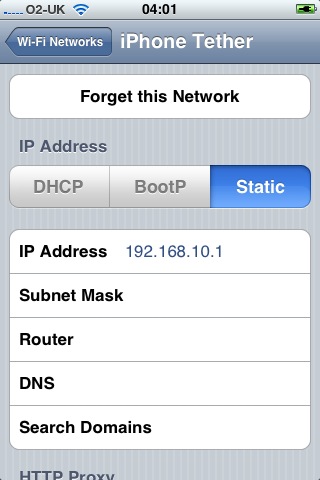 Step 8: Open NetShare, open your browser on your Mac and enjoy!
P.S When your iPhone goes to sleep or you exit the NetShare application it will quit and your Mac will have no internet access via your iPhone.
[Via Macrumors]
About Vasilis Ananiadis
Ο ζωντανός θρύλος της Ελληνικής blogόσφαιρας, ο αβυσσαλέος master του SEO, o πρίγκηπας των Social Media, ο τυφώνας των Web Startups, ο οργασμός της ιντερνετικής επιτυχίας. Τώρα και στο twitter: @vananiadis
Tags: iPhone 3G