Πριν από λίγα λεπτά η Apple έκανε διαθέσιμη την iOS 5 beta 4 παράλληλα με τα τις αντίστοιχες εκδόσεις του iTunes 10.5.4 του Xcode 4.2 και του iOS 5 SDK beta 4.
Το iOS 5 beta 4 μπορεί να εγκατασταθεί ΟΤΑ (Over The Air) από συσκευές που έχουν εγκατεστημένο το iOS 5 beta 3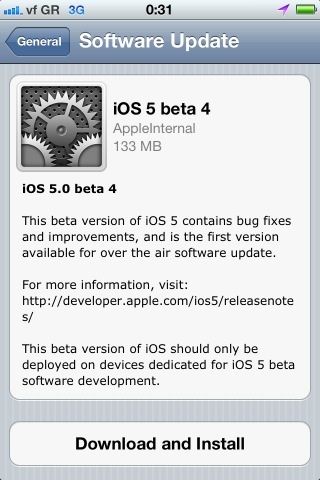 iOS 5 beta 4 can be installed using over the air software update from devices that have iOS 5 beta 3 installed. Over the air software update can be initiated by choosing General > Software Update in Settings.
Σε περίπτωση που κάνετε OTA update από την beta 3 στην beta 4 θα χρειαστεί να συγχρονίσετε εκ νέου τις φωτογραφίες σας με το iTunes
If you are doing a OTA software update from beta 3 to beta 4, you will need to re-sync your photos with iTunes.
Στην iOS 5 beta 4 τα iPhone 4 δεν μπορούν να συμμετέχουν σε personal hotspots καθώς η λειτουργία του WiFi tethering παρουσιάζει προβλήματα
In iOS 5 beta 4 iPhone 4 device cannot join personal hotspot even if it is on due to a non functional WiFi tethering on these devices.
Το Wireless Syncing ενεργοποιήθηκε και στα Windows
In iOS 5 beta 4, wireless syncing is now available on Windows as well as the Mac (requires OS X 10.6.8 or Lion)You will see an option to enable wireless syncing when you connect your device to iTunes with the USB cable. It is recommended you perform your initial sync with a cable after restoring your device.
Σχολιασμός στο forum
About Vasilis Ananiadis
Ο ζωντανός θρύλος της Ελληνικής blogόσφαιρας, ο αβυσσαλέος master του SEO, o πρίγκηπας των Social Media, ο τυφώνας των Web Startups, ο οργασμός της ιντερνετικής επιτυχίας. Τώρα και στο twitter: @vananiadis
Tags: iOS 5