Η Apple έδωσε σε κυκλοφορία σήμερα το απόγευμα την πολυπόθητη εφαρμογή iDisk για το iPhone και την συνδρομητική υπηρεσία MobileMe.
Διανέμεται δωρεάν από το App Store κι επιτρέπει στους MobileMe χρήστες να βλέπουν, να αποθηκεύουν και να διαμοιράζουν με e-mail τα αρχεία τους που έχουν αποθηκευμένα στο iDisk.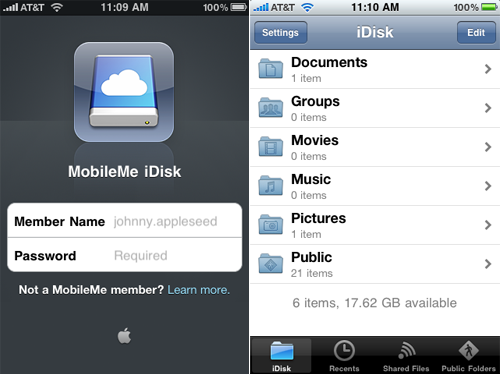 – View files on your iDisk
– Access Public folders
– Easily share files from your iPhone
– Quickly access recently viewed files
– View iPhone-supported file types-including iWork, Office, PDF, QuickTime and more. (Files larger than 20MB may not be viewable.)
MobileMe iDisk is available for the iPhone and iPod touch and requires iPhone OS 3.0 and a MobileMe subscription.
[iTunes link – Τιμή: ΔΩΡΕΑΝ]
Συζήτηση στο forum: iDisk.app for iPhone
Tags: iPhone, iPhone 3G, iPhone 3GS, MobileMe