Το Αγγλικό e-shop handtec έχει ήδη ανακοινώσει την τιμή διάθεσης του TomTom Car Kit mount: £113.85 ~ 135€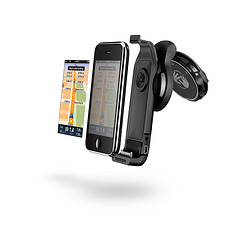 The TomTom solution combines two new TomTom products to provide users with state of the art in-car navigation on their iPhone 3G:
– The TomTom navigation application for iPhone; an Apple version of TomTom's award-winning turn-by-turn navigation software, including IQ Routes and latest maps from Tele Atlas.
- The TomTom car kit for iPhone; a specially developed car kit for secure docking, enhanced GPS performance, clear voice instructions, hands-free calling and in-car charging.
Η τιμή της εφαρμογής η οποία και αναμένεται σύντομα στο App store δεν έχει ανακοινωθεί ακόμη.
Το Tomtom.app σύμφωνα με τις πρώτες εκτιμήσεις δεν θα διατίθεται δωρεάν, καθώς θα μπορεί να λειτουργήσει και αυτόνομα, χωρίς το Car Kit mount.
[Via handtec]
Συζήτηση στο forum: Tom Tom Gps app for iPhone
About Vasilis Ananiadis
Ο ζωντανός θρύλος της Ελληνικής blogόσφαιρας, ο αβυσσαλέος master του SEO, o πρίγκηπας των Social Media, ο τυφώνας των Web Startups, ο οργασμός της ιντερνετικής επιτυχίας. Τώρα και στο twitter: @vananiadis
Tags: iPhone 3G, iPhone 3GS