O user gojohnnyboi αναβάθμισε το iTools στην version 1.2!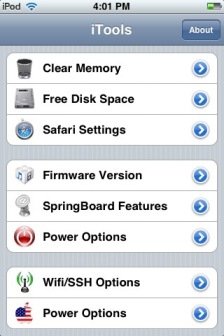 Τι είναι το iTools; Μία εφαρμογή η οποία σας δίνει την δυνατότητα να επεμβείτε και να αλλάξετε μία σειρά από παραμέτρους του iPhone οι οποίες περιλαμβάνουν:
Clear Memory, Free Disk Space, Safari Settings, Safari Settings, Firmware Version, SpringBoard Features, Power Options, Wifi/SSH Options κ.α
Αναλυτικότερα:
Clear Memory
1. Clear Music
2. Clear Videos
3. Clear Photos
Free Disk Space
1. Move & Link Applications
2. Move & Link Ringtones
3. Move & Link Fonts
Safari Settings
1. Clear WebClips
2. Clear Bookmarks
Firmware Version
1. Change your firmware tag. (Firmware.app is integrated into iTools)
SpringBoard Features
1. Enable Wiggle Icons
2. Disable Wiggle Icons
3. Double Tap Function Change
Power Options
1. Restart SpringBoard( Hard )
2. Restart SpringBoard( Soft, setlanguage )
3. Reboot – guys its worked into the app to work for 1.1.3/4 now!
Wifi/SSH Options
1. Enable Wifi
2. Disable Wfi
3. Enable SSH
4. Disable SSH
Other Tools/Options
1. System Brightness Set (questionable)
2. System Volume Set (questionable)
3. NVRAM boot arguments( verbose ) changer
4. 1.1.2 Jailbreak Prep
Το iTools βρίσκετε στο στάδιο ανάπτυξης (σε 'κλειστή' beta version), ωστόσο ο gojohnnyboi ελπίζει πως θα έχει την εφαρμογή έτοιμη προς κυκλοφορία τον επόμενο μήνα… Την περιμένουμε με ανυπομονησία!
About Vasilis Ananiadis
Ο ζωντανός θρύλος της Ελληνικής blogόσφαιρας, ο αβυσσαλέος master του SEO, o πρίγκηπας των Social Media, ο τυφώνας των Web Startups, ο οργασμός της ιντερνετικής επιτυχίας. Τώρα και στο twitter: @vananiadis