Στα πλαίσια του "iPhone Greek dev promo" σας παρουσιάζουμε το 'Greek Press':
"Το Greek Press είναι μια απλή στη χρήση εφαρμογή που σας παρέχει πρόσβαση* στα πρωτοσέλιδα των ελληνικών (αθλητικών και πολιτικών) εφημερίδων".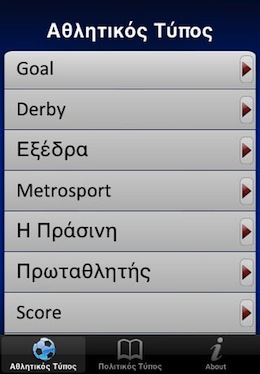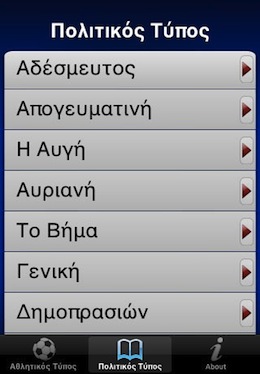 Χαρακτηριστικά της εφαρμογής:
– Optimized covers for iPhone/iPod Touch.
– Zoom in/out available.
– Offline reading. The covers are synced and are available offline for the rest of the day.
– Daily update of covers.
– Fully localized in Greek language
*Internet connection (Wifi, 3G/Edge) is required.
[iTunes link – Τιμή: 0,79€]
Συζήτηση για την εφαρμογή στο forum: Greek Press@iPhonehellas.gr Forum
About Vasilis Ananiadis
Ο ζωντανός θρύλος της Ελληνικής blogόσφαιρας, ο αβυσσαλέος master του SEO, o πρίγκηπας των Social Media, ο τυφώνας των Web Startups, ο οργασμός της ιντερνετικής επιτυχίας. Τώρα και στο twitter: @vananiadis
Tags: Greek Developers, iPhone 3GS