Η Fire Core ανακοίνωσε ότι η beta έκδοση του aTV Flash για το νέο AppleTV είναι διαθέσιμη προς πώληση.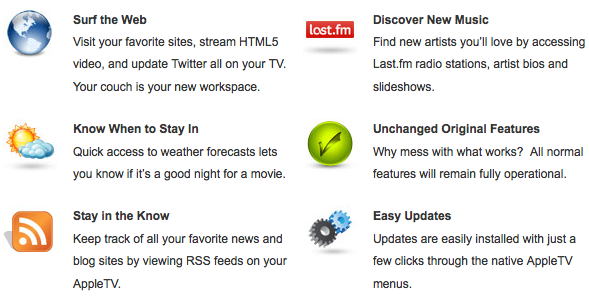 Η παρούσα έκδοση είναι συμβατή μόνο με Mac και προορίζεται για το  πρώτο AppleTV iOS. Η έκδοση για Windows θα διατεθεί μέσα στις επόμενες ημέρες ενώ και το update για το τελευταίο iOS θα είναι διαθέσιμο σύντομα…
Χαρακτηριστικά της beta έκδοσης:
● Surf the Web – Experience the web in all its glory and stream HTML5 video from many popular sites (note: not all HTML5 sites supported yet).
● Discover New Music – Find new artists you'll love by accessing Last.fm radio stations, artist bios and slideshows.
● Plex Client – Stream media from Plex Server running on your Mac. (big thanks to quiqueck for putting this together)
● Info on Demand – Keep track of current weather and news feeds on your AppleTV.
● One-click Updates – Install, remove or update plugins in a snap through the native AppleTV interface.
Χαρακτηριστικά που έρχονται σύντομα…
● Go Beyond iTunes – Enable playback of additional media formats.
● Access Media Anywhere – Stream media from most NAS devices.
● Much, much more…
Τιμή:
aTV Flash (black) will be available at the discounted discounted price of $19.95 during the beta (pre-order) phase. Once the final version is ready for release the price will return to the normal level of $29.95. The original aTV Flash is also being reduced to $39.95.
Σχολιασμός στο forum: aTV Flash
More from Apple TV
---
6.2K
Ο κακός χαμός γίνεται τις τελευταίες ημέρες μετά τις αποκαλύψεις της ιστοσελίδας The Register σχετικά με τα δύο τεράστια bugs (Meltdown και Spectre) στην αρχιτεκτονική σχεδόν όλων των επεξεργαστών που γνωρίζουμε (Intel, AMD, ARM) τα τελευταία 10 χρόνια. Από την …
Editor Picks
---