To Chrono Trigger είναι πλέον διαθέσιμο για το iPhone και iPod touch!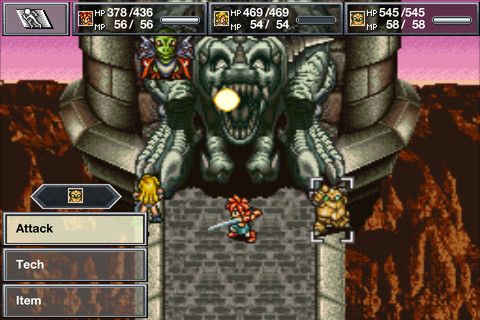 Tο Chrono Trigger είναι ένα κλασικό role-playing παιχνίδι που έχει δημιουργηθεί από τους Yuji Horii, δημιουργό του Dragon Quest, Akira Toriyama, δημιουργό του Dragon Ball και τους δημιουργούς του Final Fantasy. Μπορείτε τώρα και στο iPhone να εξερευνήσετε την ιστορία του παιχνιδιού και τις δυναμικές μάχες με νέα touch controls που προσφέρουν μια καλύτερη εμπειρία. Στην έκδοση για το iPhone υπάρχουν και οι δύο πίστες Dimensional Vortex και Lost Sanctum από το remake του Nintendo DS.
CHRONO TRIGGER has arrived for the iPhone and iPod touch!
Requirements: Compatible with iPhone 3GS, iPhone 4, iPhone 4S, iPod touch (3rd generation) and iPod touch (4th generation). Requires iOS 4.0 or later.

CHRONO TRIGGER is the timeless role-playing classic developed by the "Dream Team" of DRAGON QUEST creator Yuji Horii, Dragon Ball creator Akira Toriyama, and the creators of FINAL FANTASY.

Featuring revolutionary gameplay and an epic tale of time travel and high adventure, CHRONO TRIGGER captured the hearts of a gaming generation, selling over three-and-a-half million copies around the world.

With CHRONO TRIGGER for iPhone/iPod touch, you can experience the timeless story and dynamic battles of this beloved classic any time, anywhere-with intuitive touch screen controls making the experience smoother than ever. Venture also to the Dimensional Vortex and Lost Sanctum, two additional areas from the Nintendo DS remake of the game.

Journey to the forgotten past, the distant future, and even to the very End of Time. Whether you're a first-time player or a longtime fan, this epic quest to save a planet's future promises hours of enthralling adventure!
To Chrono Trigger διατίθεται προς 7.99€ στο App Store [link] και είναι συμβατό με τα iPhone 3GS, iPhone 4/4S και iPod touch 3G/4G.
Σχολιασμός στο forum
More from Apps
---
16.4K
Η εφαρμογή του Netflix για iPhone / iPad σταμάτησε να υποστηρίζει το AirPlay.... μετά από 6 χρόνια απροβλημάτιστης λειτουργίας. Σύμφωνα με το Netflix, η παύση της υποστήριξης της λειτουργίας AirPlay στα iPhone, iPad και iPod touch οφείλεται σε "τεχνικούς περιορισμούς". Μετά …
Editor Picks
---