Ευχάριστα νέα από το Webkit blog:
WebKit now supports explicit animations in CSS. As a counterpart to transitions, animations provide a way to declare repeating animated effects, with keyframes, completely in CSS.!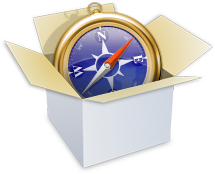 CSS Animations is one of the enhancements to CSS proposed by the WebKit project that we've been calling CSS Effects (eg. gradients, masks, transitions). The goal is to provide properties that allow Web developers to create graphically rich content. In many cases animations are presentational, and therefore belong in the styling system. This allows developers to write declarative rules for animations, replacing lots of hard-to-maintain animation code in JavaScript.

The features are presently unique to WebKit but can be viewed by using one of the beta nightly builds or simply through your iPhone/iPod Touch. Apple has already implemented these animations, as well as 3D support, within the iPhone's mobile Safari.
Δοκιμάστε να περιηγηθήτε στα παρακάτω links, μέσα από το Safari του iPhone ή από το Safari του PC/Mac σας (χρησιμοποιώντας το αντίστοιχο "nightly Webkit build"), ώστε να δείτε τα νέα features του WebKit σε δράση:
1) Falling leaves
2) Bouncing box
3) Pulse
Ίσως τελικά να μην χρειαστεί να έχουμε Flash στο iPhone…
Συζήτηση στο forum: CSS Animation in iPhone's Safari! Bye-bye Flash?
You might also like
---
More from iPhone
---
13.4K
Η Apple εργάζεται επάνω στην ενοποίηση των εφαρμογών "Find My iPhone" και "Find My Friends", σύμφωνα με τον developer Guilherme Rambo. Η νέα 2-σε-1 εφαρμογή θα είναι διαθέσιμη τόσο στο iOS όσο και στο macOS ως μέρος του project "Marzipan", …
Editor Picks
---