Οι κάτοχοι iOS συσκευών που αρέσκονται στην παραμετροποίηση της εμφάνισης της Homescreen, των εικονιδίων κτλ. έχουν κάθε λόγο να χαίρονται καθώς μέσα στο Σ/Κ ανακοινώθηκαν ευχάριστα νέα όσον αφορά τα Themes που μπορεί κανείς να κατεβάσει και να εγκαταστήσει στην συσκευή του.
Η αρχή έγινε με την ανακοίνωση της κυκλοφορίας του Theme it, ενός νέου ηλεκτρονικού καταστήματος μόνο για themes το οποίο υπόσχεται καλύτερη εμπειρία διαχείρισης από ότι το Cydia και το Cydia Store και η συνέχεια ήρθε από τον Saurik με την αναβάθμιση του Cydia και την προσθήκη νέων χαρακτηριστικών, όσον αφορά τα Themes.
Φαίνεται ωστόσο πως τα ποσά που διακινούνται γύρω από την αγορά των Themes δεν είναι ευκαταφρόνητα και ο πόλεμος μεταξύ Cydia και Theme it έχει ξεκινήσει, με χτυπήματα κάτω από την μέση!
Πριν προχωρήσουμε στην ανακοίνωση που εξέδωσε η ομάδα του Theme it σχετικά με τα πισώπλατα μαχαιρόματα που δέχτηκαν από τον Saurik, ας πάρουμε μία γεύση από τα 2 στρατόπεδα:
Theme it
Σημείωση: Για να εγκαταστήσετε το Theme it, θα πρέπει να προσθέσετε το ακόλουθο repo στο Cydia: http://www.themeitapp.com/repo
Cydia themes section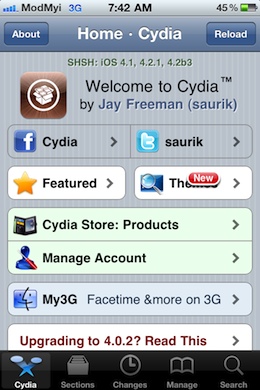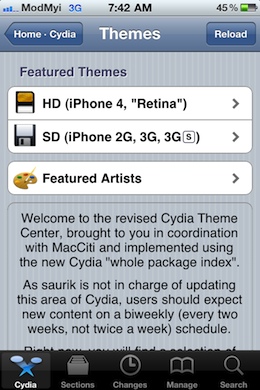 Και αφού είδαμε τα όμορφα screenshots και το video, ας περάσουμε στην άσχημη πλευρά της ιστορίας. Η ανακοίνωση που ακολουθεί προέρχεται από τον Gab, developer του Theme it:
Note to all iDevice Jailbreakers and people interested in Theme it:

Well as it was to be expected Saurik/Jay Freeman (maker of Cydia) doesn't seem to appreciate our venue in "his" community. He wrote me an email, asking us to 'back-down' and stop our much awaited project hiding behind the fact that competition is bad… Sure competition isn't good to someone trying to keep his monopoly and have the ability to decide how everything should or should not evolve. But we're all aware that competition is a great thing for the end user and everyone else for that matter, it forces the different parties to do better all the time for the real good of the community. Funny enough, he suddenly seems to have become very "available" since the announcement of Theme it went public ; ) getting in contact with the different repositories, theme creators, etc.

But "back-stabbing" is the main intention here, making sure all the people getting involved with us will turn their backs on us (I'm forced to admit that they don't really have much choice since he's currently the only one pulling all the strings) For instance we "mysteriously lost" our partner repository (that had signed a partnership agreement with us) and i've heard that he's even "taking the time" to contact different theme creators directly as well to try and make sure they don't follow us in this adventure… how low is that !? This clearly shows one thing; he feels quite threatened of what we're coming out with, he doesn't want to loose money and potentially more… his monopoly.

Now, we just wanted to let everyone know that Theme it is being released in January and that we'll be glad to count you in. There is no 'sides to choose' here, we just want to offer a different solution to users, theme creators and everyone else interested. Keep in mind that Theme it is currently oriented to deal with themes because that's where we noticed there was a real need to do something but the architecture is fully compatible to have let's say : App it come along later for software developers, etc…

Obviously we'll be looking for the best way to get distributed (repository and/or jailbreak utilities) now that most doors have been closed thanks to Saurik's requests/pressure, so if you're interested feel free to get in touch with us via our website, twitter (@themeit_app) or by mail at info@themeitapp.com

This message has two main purposes: One is to let everyone know Saurik/Jay Freeman's ways and how he keeps trying to block any competition to keep a global hold on "the community". Two is to let people know that we hate to be dictated what we should or should not do and that his low-ways of doing can only motivate us even more to make a great, fresh, new solution for everyone to enjoy.

I hope you'll understand that this is REALLY for the best of "the community" and it's time users, theme creators and repositories have other options to choose from.

There is no way we're letting such a great and much awaited idea get blocked by a "wannabe god"…

Best,

Gab & Co.
Cydia ή Theme it; Η απόφαση είναι δική σας και δεν έχετε παρά να δοκιμάσετε και τις δύο εναλλακτικές ώστε να κρατήσετε μία ή και τις δύο από αυτές στην συσκευή σας.
[via readwriteweb.com]
Σχολιασμός στο forum: Cydia themes section vs Theme it
You might also like
---
More from Cydia
---
2.6K
Ο δημοφιλής Έλληνας developer Ηλίας Λιμναίος κατάφερε να ξεκλειδώσει τη δυνατότητα επικοινωνίας του iPhone με NFC συσκευές! Η επικοινωνία κοντινού πεδίου (Near Field Communication, NFC) αποτελεί μια πρότυπη τεχνολογία συνδεσιμότητας, η οποία διαδίδεται και εξελίσσεται ραγδαία με κύριο σκοπό τη λύση αρκετών …
Editor Picks
---