H dev-Team έδωσε στην κυκλοφορία πριν από λίγο τo PwnageTool 4.1 [Mac only]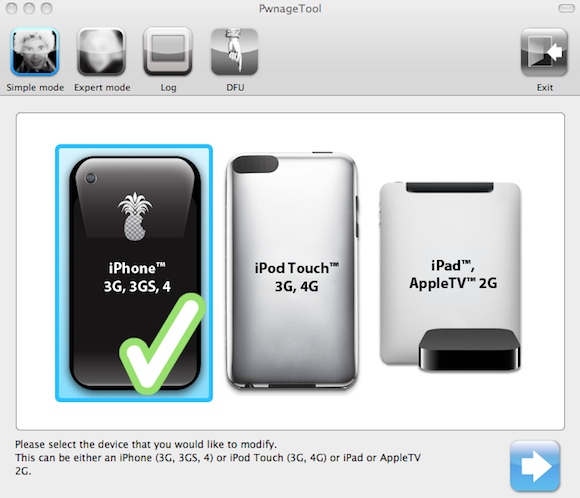 Οι συσκευές που υποστηρίζονται από αυτό το εργαλείο untethered jailbreak, το οποίο χρησιμοποιεί το αρχικό pwnage2 exploit σε συνδιασμό με το exploit του limerain και το pf kernel exploit του comex, είναι οι εξής:
AppleTV 2G
iPad (firmware 3.2.2)
iPod touch 4G
iPod touch 3G
iPhone4
iPhone 3GS
iPhone 3G
AppleTV 2G users:  Welcome to the JB family!  Right now, about all you can do is command-line stuff via ssh.  You also have afc2 available, so you can use tools like ifunbox to move files around.  These are the *very* early days of AppleTV 2G jailbreaking, so it'll take some time for JB app developers to come up with methods to use your AppleTV 2G from the remote, versus the command line.  PS: Your ssh password is "alpine"…please change it when you can :)

Expert mode: By popular demand, the IPSW file selection in Expert mode is now completely manual (doesn't use Spotlight).  Just pick your IPSW file directly instead of waiting for the Spotlight search to complete. In Expert mode, the default is to hacktivate ("Activate the iPhone"), so if you have a legit SIM card be sure to deselect that option in Expert mode.

DFU button:  That "DFU" button in PwnageTool is more than it looks like.  It guides you through the DFU process, but then also runs the appropriate exploit to convince your device and iTunes that all is legit.   The DFU button in PwnageTool is not just your average DFU.
Mπορείτε να κατεβάσετε το PwnageTool εδώ:  – PwnageTool_4.1.dmg.5898597.TPB.torrent
SHA1 Sum = 4f216e5863d191f30f84b6201e8c2bbea031e691
Συζήτηση στο forum: H dev-Team δίνει το PwnageTool 4.1
More from Apple TV
---
6.3K
Ο κακός χαμός γίνεται τις τελευταίες ημέρες μετά τις αποκαλύψεις της ιστοσελίδας The Register σχετικά με τα δύο τεράστια bugs (Meltdown και Spectre) στην αρχιτεκτονική σχεδόν όλων των επεξεργαστών που γνωρίζουμε (Intel, AMD, ARM) τα τελευταία 10 χρόνια. Από την …
Editor Picks
---