Κατά τη διάρκεια της MacWorld 2010 οι Jason Snell (Macworld editor-in-chief), Dan Moren (Macworld), Ted Landau (Mac Observer, Macfixit), Ryan Block (GDGT) και Andy Ihnatko συμμετείχαν σε ένα πάνελ συζήτησης γύρω από το νέο tablet της Apple, το iPad.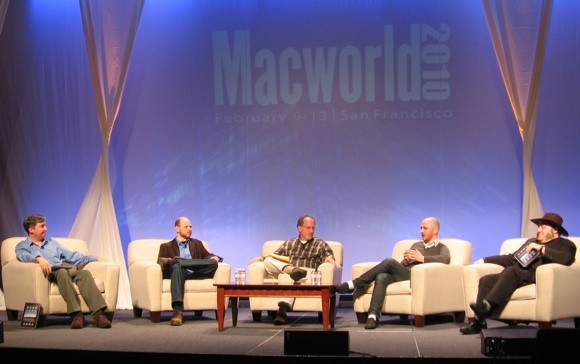 Έχει ιδιαιτέρο ενδιαφέρον να παρακολουθήσουμε τις απόψεις των 5 "ειδικών", 4 εκ των οποίων έχουν πιάσει στα χέρια τους το iPad: 

1:02PM Here's Paul Kent. "Welcome to our iPad special event." He's got an iPad mockup, but it's not the real thing. "You know that this is not shipping yet?" He just dropped it as a joke.
1:04PM Paul introducing Jason Snell, finishes with "We'll see you next year, right?" Hope so!
1:05PM Panels are coming up on stage. Jason says "We don't have a real one, Apple's not here." Four of the five people on stage have used an iPad, however. Dan Moren of Macworld, Ted Landau, Mac Observer and Macfixit. Ryan Block of GDGT and our old Engadget colleague, and Andy Ihnatko.
1:06PM Ted is the only one who hasn't touched the iPad, but everyone else was at the event. What were your first impressions?
1:06PM Dan Moren: It's suprising how natural it feels. There's something about it that feels very intuitive. Like a book, you don't pick it up and think "how can I use this?" It makes sense.
Η συνέχεια στο forum: Macworld 2010 special iPad event
More from iPad
---
15.4K
Οι επίσημες τιμές πώλησης των νέων iPad Air και iPad mini (2019) στην Ελλάδα, είναι πλέον γνωστές! iPad Air 10.5'' (2019) Το νέο iPad Air έρχεται με οθόνη True Tone 10.5" ανάλυσης (2224 x 1668) και υποστήριξη της πρώτης γενιάς γραφίδας Apple Pencil, επεξεργαστή …
Editor Picks
---