Συναρπαστικά νέα για τους κατόχους και επίδοξους αγοραστές του iPhone 3G! Η Dev Team κατάφερε να κάνει downgrade τo modem Firmware του iPhone 3G!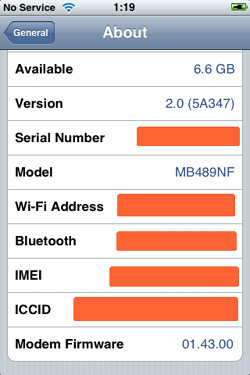 Όπως δηλώνουν και οι ίδιοι:
"This image is the "About" screen from a 3G iPhone that was bought in a store last week. As you can see the modem firmware version has been successfully downgraded to an older "beta" firmware.
This is not an unlock (yet), but it is our illustration of the first progress made with regard to hacking the 3G baseband. We have accomplished this by being able to execute our own code on the baseband that allows us to circumvent security checks and flash the baseband with older, disallowed firmware.
Please note this has been accomplished using software only, the iPhone 3G has not been disassembled or hardware modified in any way."
[Via iPhoneDevTeam]
You might also like
---
More from Jailbreak
---
7.0K
Η KeenLab κατάφερε να κάνει Jailbreak το iPhone XS Max στο iOS 12.1, λίγες ημέρες μόνο μετά την κυκλοφορία του νέου firmware update από την Apple. Ο Liang Chen, security researcher της ταλαντούχας ομάδας της KeenLab, μοιράστηκε τα χαρμόσυνα νέα στο Twitter δείχνοντας μία φωτογραφία …
Editor Picks
---