H Dev Team ανανέωσε το blog της και μεταξύ άλλων, μας ενηρώνει για την πορεία του iPhone 3G Unlock, 
We are able to execute unsigned code on the baseband in order to circumvent a security check, which then allows us to flash the baseband to an earlier version.  Of course, this isn't a 3G unlock (as yet) but it is a demonstration of our ability to hand-control the baseband.

With all this upgrading and downgrading,  we were worried about (true) bricks, so we've developed a method to dump the WiFi tables and the seczones.  Now we can modify without sweating, since a successful recovery can be made at any point.
So, we are making steady progress towards the goal of a software-based iPhone 3G unlock.
αλλά και για την πολυ-αναμενόμενη ημερομηνία κυκλοφορίας του Installer v4.0: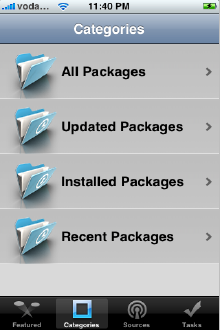 DevTeam members have an internal beta version of Installer 4 from RiPDev.  It looks very nice, and expect a release from them soon.  We don't have an exact date yet, but we'd estimate certainly not within the next few days and less than a couple of weeks. We've attached another couple of screenshots at the end in case you want to see more.
Διαβάστε ολόκληρο το (πολύ ενδιαφέρον) άρθρο τους στο iPhone-dev.org
You might also like
---
More from iPhone
---
7.0K
Η Apple εργάζεται επάνω στην ενοποίηση των εφαρμογών "Find My iPhone" και "Find My Friends", σύμφωνα με τον developer Guilherme Rambo. Η νέα 2-σε-1 εφαρμογή θα είναι διαθέσιμη τόσο στο iOS όσο και στο macOS ως μέρος του project "Marzipan", …
Editor Picks
---