H SpeakerCraft, δουλεύει πάνω σε ένα project σύμφωνα με το οποίο θα μπορείτε να ελέγχετε τις συσκευές του home theater system σας, χρησιμοποιώντας το iPhone ή/και το iPod Touch. Η ονομασία που έχει δώσει η SpeakerCraft στο project είναι 'MZC Control for iPhone'.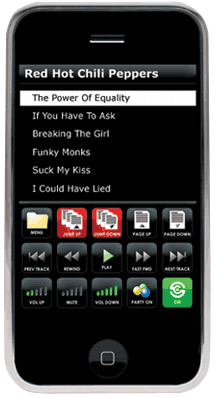 Χρησιμοποιώντας το iPhone σας, όχι μόνο θα μπορείτε να ελέγχετε το home theater αλλά και να έχετε πληροφορίες για songs/video/playlists κ.α που αναπαράγονται από το σύστημα σας.
Όπως αναφέρεται στην ιστοσελίδα τους:
"Song information, artist names, genres and play lists from your home system are all displayed on the interactive touch screen which makes accessing your music as easy as using the iPod itself."
"Our award-winning MODE/MZC system has been installed in tens of thousands of homes across the country. The MODE keypad is incredibly easy to operate and has set a standard for the industry in the minds of numerous home owners."
"The core of the system is the MZC unit itself that contains the control processors, audio/video distribution and amplification. Keypads are connected to the MZC through standard CAT5 cable and the speakers throughout the home are connected with standard speaker cable. A/V source components are also connected to the MZC unit allowing for access of the various sources from any zone in the home."
Όλα ακούγονται πολύ ωραία! Όλα… εκτός της τιμής η οποία εκτιμάται κοντά στα $1,000 !!!
More from iPhone
---
13.4K
Η Apple εργάζεται επάνω στην ενοποίηση των εφαρμογών "Find My iPhone" και "Find My Friends", σύμφωνα με τον developer Guilherme Rambo. Η νέα 2-σε-1 εφαρμογή θα είναι διαθέσιμη τόσο στο iOS όσο και στο macOS ως μέρος του project "Marzipan", …
Editor Picks
---