Αν και ακόμα βρίσκεται σε beta version, η iPhone Firmware v3.0 διαθέτει μία νέα έκδοση του Mobile Safari η οποία χρησιμοποιεί το τελευταίο WebKit, με το SquirrelFish Extreme ( "Nitro") σαν JavaScript engine!
Οι χρόνοι τους οποίους πέτυχε ο Safari της iPhone Firmware v3.0 beta είναι τουλάχιστον εκπληκτικοί, ειδικά αν αναλογιστεί κανείς πως η v3.0 είναι ακόμα στην 1η beta έκδοση!
With an average 3x speed improvement, some individual benchmarks reveal as much as an 16x increase in execution speed over the existing version of Mobile Safari in iPhone OS 2.2.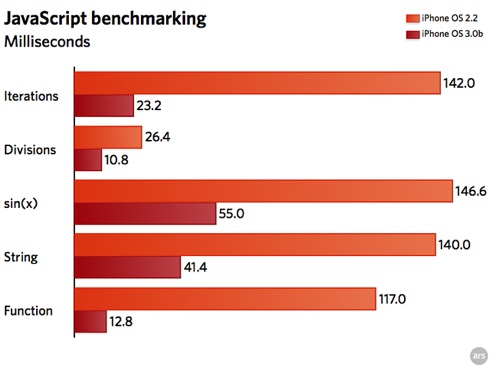 "iPhone 3.0 definitely has something, whether it's SquirrelFish or Nitro, but it's 3-10x faster than iPhone 2.2″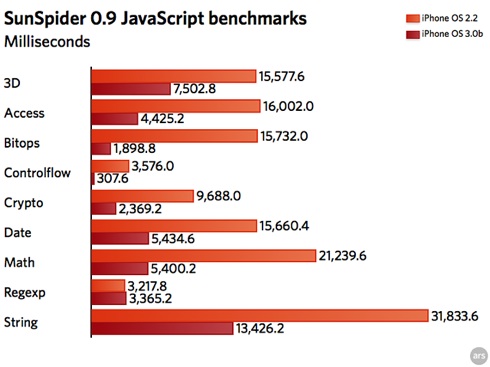 Comparison between iPhone OS 2.2.1 and the iPhone OS 3.0 beta running the WebKit team's SunSpider benchmark.

While the overall average gives the iPhone 3.0 beta a 300 percent speed advantage, some of the individual tests show 6x, 8x, or even 11x improvements—the bitwise "AND" function even runs 16x faster than in the current version of Mobile Safari.
[Via arstechnica]
Συζήτηση στο forum: iPhone v3.0: Safari 3x-16x Faster than v2.2.1
You might also like
---
More from iPhone
---
13.0K
Η Apple εργάζεται επάνω στην ενοποίηση των εφαρμογών "Find My iPhone" και "Find My Friends", σύμφωνα με τον developer Guilherme Rambo. Η νέα 2-σε-1 εφαρμογή θα είναι διαθέσιμη τόσο στο iOS όσο και στο macOS ως μέρος του project "Marzipan", …
Editor Picks
---