Δύο νέες αναφορές ανακαλύφτηκαν μέσα στην iPhone 3.0 firmware beta 2:
– Η πρώτη αναφορά κάνει λόγο για υποστήριξη "low power 802.11n wireless networking"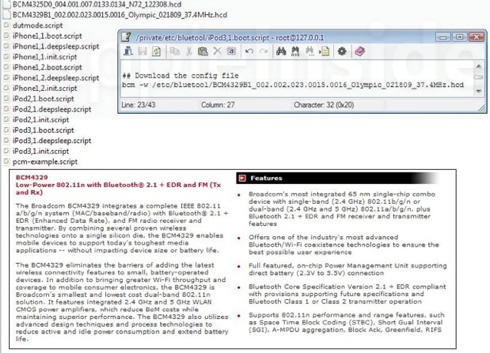 The new version of the existing Broadcom chip that supplies WiFi and Bluetooth on existing models jumps from BCM4325 to BCM4329. The component upgrade adds new support for 802.11n features, including the ability to find and join 5GHz networks.

Existing iPhone and iPod touch models only support 5GHz 802.11a networks, or 2.4GHz 802.11b/g networks, forcing users who want the top speed of 802.11n (available on all MacBooks) but compatibility with 802.11b/g networks (to use the existing iPhone) to set up a 2.4GHz compatible network. That compromise forces the wireless network to deal with interference from other networks on the often crowded 2.4GHz band.
– Το 2ο στοιχείο αναφέρεται στην ύπαρξη video editting .app (!)

iPhone OS v3.0 beta hints of a video-editing program.

Using this editing App (iMovie app) you can cut and modify videos directly from the iPhone
[Via appleinsider – benm.at]
Συζήτηση στο forum: iPhone OS v3.0 hints: Support For 802.11n, Video Editing.app (!)
You might also like
---
More from Firmwares
---
1.5K
Την Δευτέρα το βράδυ κυκλοφόρησε η 5η δοκιμαστική έκδοση του iOS 7 και όπως πάντα, πιστοί στην ενημέρωση, σας παρουσιάζουμε όλα τα νέα ευρήματα: 1.] Άλλαξαν όλα τα εικονίδια των Ρυθμίσεων:     2.] Το σύμβολο > προστέθηκε και στην απάντηση κλήσεων και στην …
Editor Picks
---