Το iSmart Dialer,  είναι μία νέα εφαρμογή η οποία έκανε δυναμική εμφάνιση στο Appstore, καθώς προσφέρεται δωρεάν! Τι προσφέρει όμως το iSmart Dialer;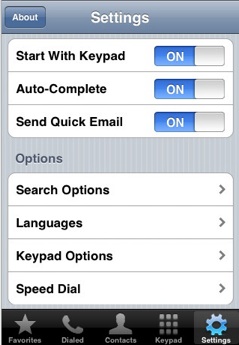 iSmart Dialer features:
– Search mode: find contacts by first, last or company name by using only the numeric keypad.
– The familiar phone number display turns into search results screen.
– Shake or Tilt your iPhone to turn on/off search mode fast (or just hold # for 2 seconds).
– Search bar: shows the letters you typed for searching.
– Smart logic search: shows the recent calls you made, your favorites and the new Speed Dial contacts before the other search matches.
– Instant Search: even if you have more than 1000 contacts.
– 3 Types of search results sizes to choose from: 1, 2 or 3 per screen.
– Up and Down arrow keys to scroll through the search results.
– You can choose between large and small arrow keys.
– Tap on the search results screen for an easy "Finger Scrolling".
– Clear all letters in search bar by holding the delete key.
– Press for 2 seconds on a result for contact information and editing.
– Call, SMS or Email from inside the dialer.
– Auto-Off search mode when you start dialing a number.
– Speed Dial: Assign 'Speed Dial-Favorites' to keys 1-9.
– Hold one of the keypads for 2 seconds to assign a contact/number to it or, after the assignment, to speed dial the contact.
– Multi language support: Unlimited number of languages for simultaneously searching and up to 2 languages to be printed on the keypad.
– Enable/Disable Keypad Vibrate and Sounds.
[iTunes link – Τιμή: Δωρεάν για περιορισμένο χρονικό διάστημα – Webiste]
Συζήτηση στο forum: iSmart Dialer
You might also like
---
More from Apps
---
16.4K
Η εφαρμογή του Netflix για iPhone / iPad σταμάτησε να υποστηρίζει το AirPlay.... μετά από 6 χρόνια απροβλημάτιστης λειτουργίας. Σύμφωνα με το Netflix, η παύση της υποστήριξης της λειτουργίας AirPlay στα iPhone, iPad και iPod touch οφείλεται σε "τεχνικούς περιορισμούς". Μετά …
Editor Picks
---