To Mini Motor Racing είναι ένα από τα καλύτερα παιχνίδια αγώνων του είδους που θα βρείτε στο App Store.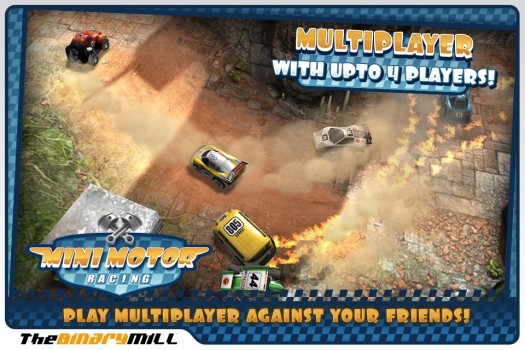 Το παιχνίδι είναι σε στιλ arcade racing και έχει ωραία γραφικά, καλό χειρισμό, υποστήριξη multiplayer, bonus πίστες και αυτοκίνητα ενώ εκμεταλλεύεται και τις αναβαθμισμένες γραφικές δυνατότητες του iPhone 4S.
* OFFICIAL FRUIT NINJA AND HOLIDAY LAUNCH BONUSES. Includes special themed tracks and cars for fruit mayhem enthusiasts and holiday revelers
* YOUR CHOICE OF CARS. Race in fully upgradeable cars, each with their own unique handling and style! Whether it be Sports, Hatch, Big-rig, Pick-up, School Bus, Hot Rod…the list goes on! Even Santa's Sleigh!
* WIN RACES, WIN CARS! Win races throughout the game and you'll find yourself behind the wheel of the sweetest rides around including the official Fruit Ninja buggy!
* MANY RACE TYPES. Race on over 20 tracks, day and night, in varying weather conditions
* MULTIPLAYER. Up to 4 racers – WiFi or Bluetooth
* GAMECENTER SUPPORT. Achievements and Leaderboards!
* iCLOUD. Store all race info and stats in the cloud for devices running iOS 5 – career progress status, unlocks, achievements, career cash and best lap times, your data is always safe!
* AIRPLAY. Mirror races from iPhone 4S and iPad 2 to TV screen for an even grander experience
* ENHANCED FOR iPHONE 4S. More eye-popping visual candy taking advantage of all that extra power!
Μπορείτε να κατεβάσετε το Mini Motor Racing για το iPhone στην τιμή των 1.59€ [link] και το Mini Motor Racing HD για το iPad στην τιμή των 2.99€ [link]
Σχολιασμός στο forum
More from Apps
---
15.9K
Η εφαρμογή του Netflix για iPhone / iPad σταμάτησε να υποστηρίζει το AirPlay.... μετά από 6 χρόνια απροβλημάτιστης λειτουργίας. Σύμφωνα με το Netflix, η παύση της υποστήριξης της λειτουργίας AirPlay στα iPhone, iPad και iPod touch οφείλεται σε "τεχνικούς περιορισμούς". Μετά …
Editor Picks
---