Βασισμένη στο βιβλίο "What Would You Do With This Room?"  του σχεδιαστή εσωτερικών χώρων Mark Lewison, το M.O.C είναι μία εφαρμογή η οποία σας επιτρέπει να δημιουργήσετε εύκολα και διασκεδαστικά τα δικά σχέδια εσωτερικού χώρου, από την οθόνη του iPhone!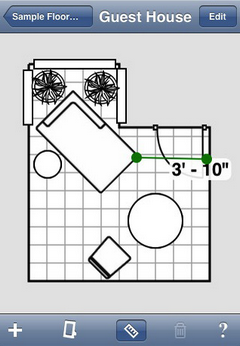 M.O.C Virtual Interior Designer features:
● Create and share detailed visual plans that work.
● Switch between the Metric or Imperial measurement systems.
● Design for how you live by using the space programming checklist.
● Custom size, place, and lock multiple architectural, living, dining, bed, bath, kitchen, and generic room elements for intricate virtual planning.
● Take pictures of actual finishes, fabrics, rugs, and flooring from your favorite manufacturers and "skin" them onto ANY item or surface in your room using your iPhone camera or images from your photo library.
● Access the Mark On Call™ Presets Palette offering pre-loaded color, pattern, wood, and stone options; apply our user-friendly color wheel; or easily add your own.
● Instantly measure any two points in your room with our touchscreen measure tool.
● Mix and match furnishings, colors, fabrics, patterns, accessories, finishes and flooring materials before purchasing.
● Make and share detailed shopping lists to help with buying decisions.
● Add "eyeliner" to your room for eye-catching flair that will make your design pop in real life.
● Easily play with scale to increase your room's drama.
● Apply Mark's ten commandments of interior design to your living space with our room checkout feature.
* FREE LIFETIME UPDATES *
[iTunes link – Τιμή: 7.99€ – Website]
Συζήτηση στο forum: M.O.C Virtual Interior Designer
You might also like
---
More from Apps
---
16.4K
Η εφαρμογή του Netflix για iPhone / iPad σταμάτησε να υποστηρίζει το AirPlay.... μετά από 6 χρόνια απροβλημάτιστης λειτουργίας. Σύμφωνα με το Netflix, η παύση της υποστήριξης της λειτουργίας AirPlay στα iPhone, iPad και iPod touch οφείλεται σε "τεχνικούς περιορισμούς". Μετά …
Editor Picks
---