Το Pakage, ο εναλλακτικός installer των Cydia και Icy, κυκλοφόρησε σε διάφορα repo του Cydia και το iPhoneHellas σας προειδοποιεί: ΜΗΝ το εγκαταστήσετε!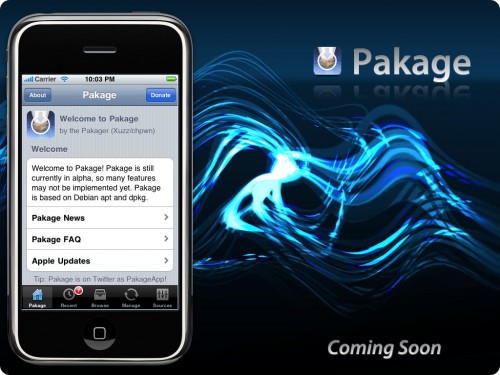 Ο ίδιος ο developer αναφέρει στο twitter:
…it is [Pakage] unsupported, experimental, unfinished, and abandoned.
Η απάντηση του σε όσους ζητήσαν βοήθεια για τα αλλεπάληλλα κρασαρίσματα της συσκευής του ήταν η εξής:
People having issues/crashing/etc: I'm not going to help. Sorry.
Από ότι φαίνεται, ο developer αποφάσισε να δημιουργήσει το Pakage σαν ένα project το οποίο είχε σκοπό να αναδείξει τα προτερήματα του Cydia ένανατι των υπολοίπων installer και δεν πρόκειται ποτέ να ολοκληρωθεί η ανάπτυξη του:
Hi, I am the developer of this app. I'd like to first make a few points:
– Cydia is the best. By far. No app has or probably will get close to it.
– Rock is the worst. I don't see why anyone at all could like it.
Why is Cydia best? Because it is correct. Cydia actually loads the sources the correct way. No other app, even Pakage, does this or even comes close. I've read the Icy code. Icy is not badly written, and not particularly buggy, it just tries to do everything itself. This will fail for a number of reasons, most importantly, you get the incompatibilities with repos and packages — remember the ones that say "Install only with Cydia!"? That's because Icy tries to do too much.
A bit of background:
The apt program, used on Debian Linux, and ported to the iPhone for Cydia, has been in development for over 16 years. It's pretty perfect. Cydia runs using Apt as a base. Icy uses custom code to try to re-implement 16 years of work. So does Rock. Pakage is sort of a mix, it uses custom code to avoid the dreaded "Reloading Data", but it does use Apt to install.
Any attempt at reimplementing Apt will fail. Rock fails, it caused people to have to restore after a perfectly normal upgrade for MobileSubstrate, why? Because it also tries to implement Apt. Even worse, I can't even use Rock myself — it fails at installing anything, either crashing or going as far as crashing springboard on my device. I have no idea why, but if its crashing that hard something is up.
Pakage is no better than Icy or Rock in any way except for installing. Even there, its not perfect at all. Why not? Apt is a huge codebase, and one that has been in development for long enough that replicating it perfectly and accurately is almost impossible.
Apt is not slow. Cydia can be fast. Cydia should be fast. I'm attempting to work with saurik to make Cydia faster. But until then, I don't suggest using anything besides Cydia even if it is faster. Even my app should not exist, but it does.
In brief:
DON'T USE ROCK. Don't use Icy. Don't use Pakage. Use Cydia.
[via]
Συζήτηση στο forum: Pakage (Cydia alternative) by chpwn
You might also like
---
More from Apps
---
16.6K
Η εφαρμογή του Netflix για iPhone / iPad σταμάτησε να υποστηρίζει το AirPlay.... μετά από 6 χρόνια απροβλημάτιστης λειτουργίας. Σύμφωνα με το Netflix, η παύση της υποστήριξης της λειτουργίας AirPlay στα iPhone, iPad και iPod touch οφείλεται σε "τεχνικούς περιορισμούς". Μετά …
Editor Picks
---