Το SMS Switcher είναι μία νέα εφαρμογή που σας επιτρέπει να έχετε πολλαπλές βιβλιοθήκες SMS στο iPhone σας.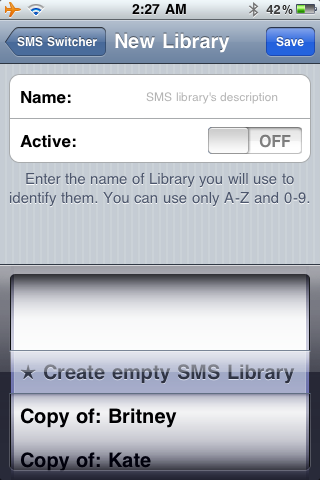 You can quickly without any technical knowledge switch them (no reboot/respring needed). For example, you can use one library to chat with your lover and the general library to chat with your fiance. SMS (and MMS) are saved and read from the active library (you can have only one library active at a time).
Δημιουργός της είναι ο Chris και θα την βρείτε στο Cydia στο Big Boss repository.
Συζήτηση στο Forum: SMS Switcher Enables Multiple iPhone SMS Libraries
You might also like
---
More from Cydia
---
2.6K
Ο δημοφιλής Έλληνας developer Ηλίας Λιμναίος κατάφερε να ξεκλειδώσει τη δυνατότητα επικοινωνίας του iPhone με NFC συσκευές! Η επικοινωνία κοντινού πεδίου (Near Field Communication, NFC) αποτελεί μια πρότυπη τεχνολογία συνδεσιμότητας, η οποία διαδίδεται και εξελίσσεται ραγδαία με κύριο σκοπό τη λύση αρκετών …
Editor Picks
---