Οι σημαντικότερες φήμες/πληροφορίες σχετικά με το αναμενόμενο iPad Tablet της Apple:
1.ΤοApple Tablet μοιάζει με ένα μεγαλύτερο αλλά λεπτότερο iPhone 1st Gen το οποίο θα χρησιμοποιεί την μπαταρία των MacBook.
Σύμφωνα με τις πηγές του appleinsider η συσκευή μοιάζει πάρα πολύ με το παρακάτω Tablet concept το οποίο δημοσιεύτηκε από τον Flickr user Fotoboer.nl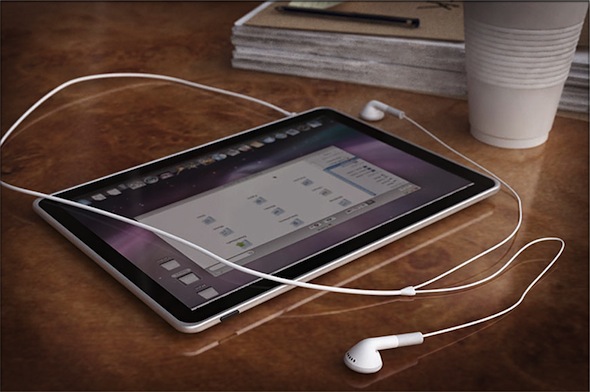 Nestled in an aluminum shell that leverages the Apple's expertise in unibody construction but thinner proportionality than the original iPhone, the tablet reportedly sports all of the same buttons found on the handset, right down to its iconic home button — which, like the volume toggle, is missing from the rendering.
Similarly, the tablet is said to sport all the same in/out connectivity as the current iPhone 3GS, including a 3.5-mm stereo headphone jack, built-in speaker grills, a microphone, GPS, 3G connectivity and a 30-pin dock connector. Like the rendering, its 10-inch display is framed by a black border that bleeds into its wrap-around aluminum enclosure.
2. Σύμφωνα με επιβεβαιωμένες (!) πηγές του iLounge το Apple Tablet θα διαθέτει τα παρακάτω χαρακτηριστικά:
a) Double Dock Connectors
We're hearing that the tablet is going to have one on the vertical bottom edge and one on the horizontal bottom edge, enabling this device for the first time to be both mounted and charged either in portrait or landscape mode. iPhone and iPod touch users have long had to deal with the unusual sight of a cable or hard-mounted connector sticking out of the side of their devices when it's being used as a widescreen video or game player, and accessory companies have struggled for the past three years to figure out ways to accommodate Cover Flow and the like in their speakers and docks. Two Dock Connectors fixes this, and depending on how Apple handles multiple accessory connections, could have some other nice benefits, as well.
b) Antenna Compartment
The various reports of the tablet's iPhone-ish-ness continue with the antenna compartment, which like the original iPhone has a long rear stripe for wireless radio broadcasting. This is necessary due to the metal used in the rest of the shell, which would inhibit radio performance, and the size of the stripe—not an iPod touch-sized pill—suggests room for nice-sized antennas, and 802.11n compatibility.
Συζήτηση στο Forum: Apple Tablet iPad iSlate
You might also like
---
More from iPad
---
9.7K
Οι επίσημες τιμές πώλησης των νέων iPad Air και iPad mini (2019) στην Ελλάδα, είναι πλέον γνωστές! iPad Air 10.5'' (2019) Το νέο iPad Air έρχεται με οθόνη True Tone 10.5" ανάλυσης (2224 x 1668) και υποστήριξη της πρώτης γενιάς γραφίδας Apple Pencil, επεξεργαστή …
Editor Picks
---