O Vivek "Vic" Paul Gundotra, πρώην στέλεχος της Google (Senior Vice President, Social), επαινεί τις φωτογραφικές δυνατότητες του iPhone 7 και της λειτουργίας Portrait mode σε προσωπικό του δημοσίευμα στο Facebook: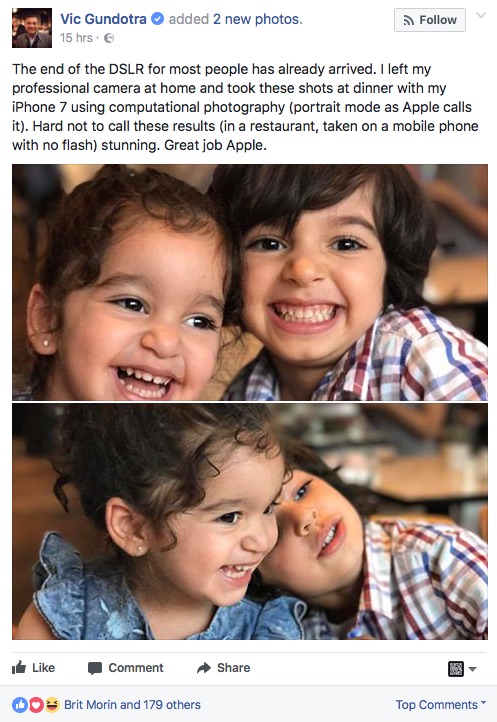 Στα σχόλια που ακολουθούν το αρχικό δημοσίευμα ο Gundotra εξηγεί που ωφείλεται η επιτυχία της Apple και που υστερούν τα Android έναντι των iPhone, στον τομέα των φωτογραφικών λήψεων. Καταλήγει μάλιστα να προτείνει τo iPhone και όχι κάποιο Android σε όσους χρήστες ενδιαφέρονται πραγματικά για κορυφαία φωτογραφικά αποτελέσματα από το smartphone τους:
Here is the problem: It's Android. Android is an open source (mostly) operating system that has to be neutral to all parties. This sounds good until you get into the details. Ever wonder why a Samsung phone has a confused and bewildering array of photooptions? Should I use the Samsung Camera? Or the Android Camera? Samsung gallery or Google Photos?

It's because when Samsung innovates with the underlying hardware (like a better camera) they have to convince Google to allow that innovation to be surfaced to other applications via the appropriate API. That can take YEARS.

Also the greatest innovation isn't even happening at the hardware level – it's happening at the computational photography level. (Google was crushing this 5 years ago – they had had "auto awesome" that used AI techniques to automatically remove wrinkles, whiten teeth, add vignetting, etc… but recently Google has fallen back).

Apple doesn't have all these constraints. They innovate in the underlying hardware, and just simply update the software with their latest innovations (like portrait mode) and ship it.

Bottom line: If you truly care about great photography, you own an iPhone. If you don't mind being a few years behind, buy an Android.
Σχολιασμός στο forum
More from iPhone
---
12.5K
Η Apple εργάζεται επάνω στην ενοποίηση των εφαρμογών "Find My iPhone" και "Find My Friends", σύμφωνα με τον developer Guilherme Rambo. Η νέα 2-σε-1 εφαρμογή θα είναι διαθέσιμη τόσο στο iOS όσο και στο macOS ως μέρος του project "Marzipan", …
Editor Picks
---