Εάν είστε blogger και χρησιμοποιείτε το WordPress θα χαρείτε πολύ με το επόμενο post: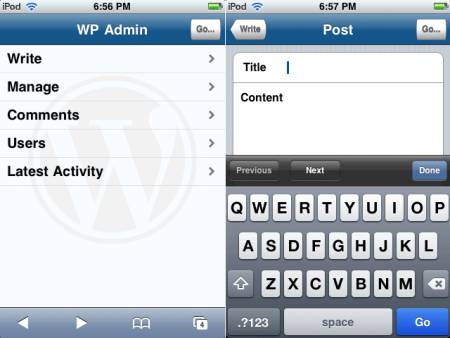 To WPhone είναι πολύ χρήσιμο plugin το οποίο σας δίνει την δυνατότητα να χρησιμοποιείτε ένα ειδικά σχεδιασμένο admin panel του WordPress σας για το iPhone σας!
Με το WPhone μπορείτε να κάνετε τις εξής ενέργειες: Write posts, add new users, moderate comments, control posts, categories, etc.
Δοκιμάστε το!
ChangeLog
Version 1.4.2
Version 1.4.1
Added Russian and French translations (props to http://lecactus.ru/ for the RU contrib)
Nokia devices compatibility fix.
Fixed a "View Site" bug when the blog url is different from the wordpress install one (props to tieum for spotting it).
Added extra checks to make sure we do not gzip compress the output when when php zlib.output_compression is already used by default on the server.
Version 1.4.0
Plugins management: You can now activate or deactivate installed WP plugins from the new Plugins screen.
Addressing a rich interface false positive with Nokia/WebKit based devices until we can gain access to such devices to try and fully support them under the CSS+JS interface.
Backward compatibility fix in the post/page form.
Ajax improvements in global navigation and dashboard links.
Miscellaneous bug fixes, tweaks and improvements.
Version 1.3.1
Simply bundling much better screenshots.
Version 1.3.0
Latest Activity: added a new section to the dashboard to replicate the WP's Latest Activity features, but without requiring JS as WP does (incoming links).
Quicklinks: Added quick links to the main features directly from the hide/show "Go…" panel for easier global navigation.
User search: Added a search form/feature to and tweaked the output of the search listing screen.
Added display preferences select list in the appropriate user/profile edit forms.
Styles and xhtml improvements for both the rich and lite interfaces.
Further improved output compression scheme for faster download and processing performance.
Bug fixes, thanks to loads of wonderful feedback we had from the WordPress users community.
Improved on the already pretty good WP backward compatibility front.
Code: Improved adherence to WP's coding standards, added function documentation (phpdocs), more hooks, etc.
And more (see svn log if interested).
Version 1.2.0
CSS tweaks to fix spacing issues in the original and updated iPhone/iPod Touch firmwares, as well as in desktop safari, instead of just the latest iPhone/iPod Touch.
Convenience links on email and URL field where and when appropriate.
Now launching some links in a new window (target="_blank") on devices supporting the feature.
Added a View/Preview button to the post/page edit forms.
Misc. navigational tweaks.
Improved the user experience on webkit devices with no or disabled Javascript support.
Better browser detection for rich v. lite versions of the interface.
Custom changes to iUI, submitted upstream to the original project.
Better, more consistent location bar hiding.
Version 1.1.0
Changes made to address sizing, spacing and scrolling issues that were inherent in upstream iUI code. Specifically addresses iPod Touch/iPhone browser issues encountered on forms.
Version 1.0.1
Slight bugfixes to iUI code to (hopefully) reduce "dancing" and sizing issues on Webkit browsers.
Version 1.0.0
More from iPhone
---
14.0K
Η Apple εργάζεται επάνω στην ενοποίηση των εφαρμογών "Find My iPhone" και "Find My Friends", σύμφωνα με τον developer Guilherme Rambo. Η νέα 2-σε-1 εφαρμογή θα είναι διαθέσιμη τόσο στο iOS όσο και στο macOS ως μέρος του project "Marzipan", …
Editor Picks
---