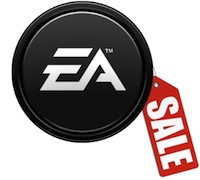 Μετά τις Konami και Pangea και η EA προχώρησε σε μειώσεις τιμών σε ΟΛΑ τα παιχνίδια που διαθέτει μέσω του Appstore:
** GAME FEAST SALE ** SAVE UP TO 50%!!
GOBBLE UP THIS GAME NOW! We've set up a buffet of savings on our tastiest titles. Hurry, sale ends 11/29!
Wolfenstein RPG: 1,59€
Monopoly: 2,39€
Surviving High School: 1,59€
Auditorium: 1,59€
Command & Conquer: 5,49€
NBA Live: 5,49€
Mystery Mania: 0,79€
FIFA 10: 5,49€
Madden 10: 5,49€
Boggle: 0,79€
The Sims: 3,39€
Tiger Woods Golf: 2,39€
SimCity: 2,39€
Tetris: 2,39€
Συζήτηση στο forum: EA discount on App store games
About Vasilis Ananiadis
Ο ζωντανός θρύλος της Ελληνικής blogόσφαιρας, ο αβυσσαλέος master του SEO, o πρίγκηπας των Social Media, ο τυφώνας των Web Startups, ο οργασμός της ιντερνετικής επιτυχίας. Τώρα και στο twitter: @vananiadis