Η Apple σήμερα κυκλοφόρησε μία νέα εφαρμογή για το iPhone και iPod touch που αφορά την συνδρομητική της υπηρεσία MobileMe και ονομάζεται Gallery (App Store – Τιμή Δωρεάν).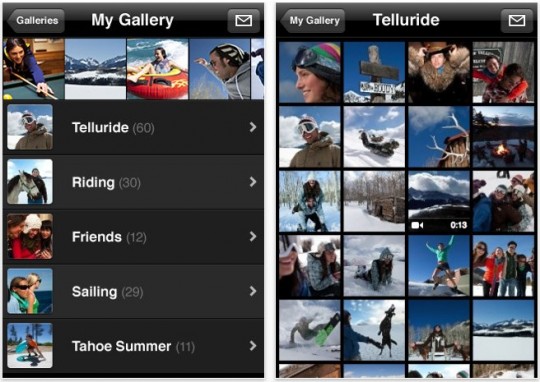 Με αυτή την εφαρμογή οι συνδρομητές της υπηρεσίας μπορούν να έχουν πρόσβαση στις συλλογές φωτογραφιών τους, ακόμη και σε αυτές που απαιτούνται κωδικοί ή που βρίσκονται σε κρυφά άλμπουμ. Μπορούν επίσης να βλέπουν τις φωτό και τα βίντεο των φίλων τους, να ξαναβλέπουν τις φωτό offline, ή να στέλνουν links προς τα albums απευθείας από το iPhone τους.
"You can create a new album or make changes to your gallery at me.com from virtually anywhere. Easily upload new photos, rearrange them, edit titles, and more. Your changes are instantly reflected in your gallery for friends to see. Have a Mac? You can upload photos directly from iPhoto '09 or Aperture 2 with just a few clicks. And if you snap a picture on the road or capture video using your iPhone 3GS, you can post it directly to your gallery with a few taps.
The free MobileMe Gallery app lets you view all the photos and movies published in your gallery with a tap. All your albums are beautifully displayed and easy to browse using simple pinch and flick gestures. If there's a photo you want to share, tap to email a link. The MobileMe Gallery app lets you enjoy friends' photos, too. Just add other MobileMe members to your Friends list and view their galleries as easily as you view your own."
Μάλιστα υποστηρίζονται και όλα τα gestures του iPhone (εναλλαγή φωτό, μεγέθυνση, σμίκρυνση, κλπ).
Η εφαρμογή Gallery παρέχεται δωρεάν, απαιτείται όμως συνδρομή MobileMe ενώ τις συλλογές των φωτογραφιών σας μπορείτε να τις απολαύσετε κι από την Apple TV.
Συζήτηση στο Forum: Apple introduced a new MobileMe app – Gallery