Το f0recast, η εφαρμογή η οποία ελέγχει κατά πόσο το iPhone/iPod Touch υποστηρίζει Tethered ή Untethered Jailbreak καθώς και Unlock (μόνο iPhone), κυκλοφόρησε εχτές το βράδυ και είναι διαθέσιμη μόνο για Windows.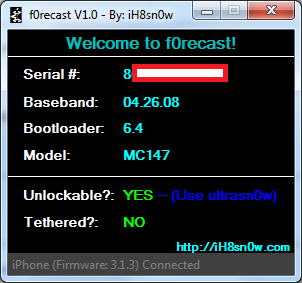 Ήδη έχει ξεκινήσει συζήτηση στο twitter μεταξύ του iH8sn0w και του MucleNerd, με τον 2ο σε ρόλο καθοδηγητή να προσφέρει πολύτιμες συμβουλές:
@iH8sn0w the 3GS new/old bootrom cutoff isn't as simple as "if(num<40)", so you'll be telling some people they're tethered when they aren't
@iH8sn0w and also refurbs have different rules too
@MuscleNerd so what would be a way to solve this?
@iH8sn0w until you get a fix on the algorithm maybe just say "unsure" when on border line (40-44), and for refurbs
@MuscleNerd Tethered Devices have iBoot Versions with a .2 at the end. Correct?
@iH8sn0w for 3GS and ipt2G yep that'll be the ending of s5l bootrom version
@iH8sn0w that's the wrong iboot :) you would need bootrom "iboot" version, not version of iboot in nor

Ανακεφαλαίωση: Το f0recast ΔΕΝ αποτελεί εργαλείο για jailbreak/unlock απλά παρέχει χρήσιμες πληροφορίες και καθοδηγεί τον χρήστη.
Συζήτηση στο forum: f0recast by iH8sn0w
About Vasilis Ananiadis
Ο ζωντανός θρύλος της Ελληνικής blogόσφαιρας, ο αβυσσαλέος master του SEO, o πρίγκηπας των Social Media, ο τυφώνας των Web Startups, ο οργασμός της ιντερνετικής επιτυχίας. Τώρα και στο twitter: @vananiadis
Tags: iH8sn0w, iPhone, Jailbreak