Θυμάστε το reMail, το εκπληκτικό offline email search.app του Gabor Cselle;
Από σήμερα μπορείτε να το ξεχάσετε – τουλάχιστον την παρούσα μορφή του – καθώς η Google εξαγόρασε την ομώνυμη εταιρεία και ταυτόχρονα απέσυρε την εφαρμογή από το App store!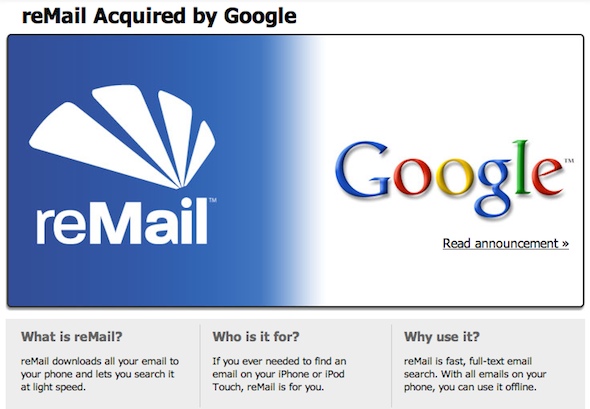 Όπως δηλώνει ο Gabor Cselle στο blog του:
I'm thrilled to announce that Google has acquired reMail! I will be joining Google in Mountain View as a Product Manager on the Gmail team.
You might be wondering what will happen with reMail's product. Google and reMail have decided to discontinue reMail's iPhone application, and we have removed it from the App Store. reMail is an application on your phone. If you already have reMail, it will continue to work. We'll even provide support for you until the end of March, and we've enabled all paid reMail features for you: You can activate these by clicking "Restore Purchases" inside the app. reMail downloads email directly from your email provider to your phone, and your personal information, passwords, and email are never sent to or stored on our servers.
… και ο mobile πόλεμος μεταξύ της Apple και της Google συνεχίζεται.
Συζήτηση στο forum: reMail for iPhone
About Vasilis Ananiadis
Ο ζωντανός θρύλος της Ελληνικής blogόσφαιρας, ο αβυσσαλέος master του SEO, o πρίγκηπας των Social Media, ο τυφώνας των Web Startups, ο οργασμός της ιντερνετικής επιτυχίας. Τώρα και στο twitter: @vananiadis
Tags: iPhone