Ένας μικρός αριθμός παιχνιδιών οι οποίες προορίζονται για το iPad διέρευσαν σήμερα στο App store.
Οι τίτλοι των παιχνιδιών εμφανίστηκαν στο web-interface του iTunes και όπως παρατηρούμε η διαφορά τους από τους αντίστοιχους τίτλους του iPhone/iTouch έγκειται στο χαρακτηριστικό HD ή XL.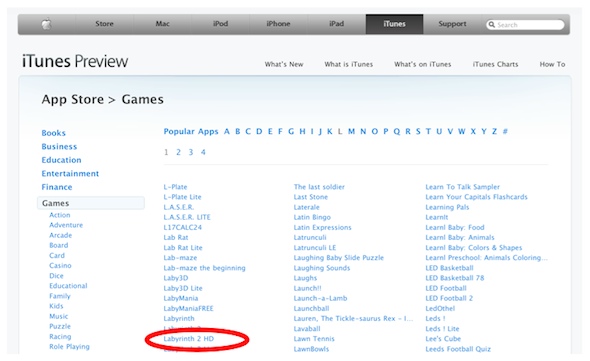 Την λίστα ανακάλυψε το Padgadget το οποίο αναφέρει:
We did a quick scan and were able to find several titles clearly marked as "HD", a common label developers are now using to indicate an iPad specific version of their app. HD is not a universal title for iPad apps, some developers are instead choosing "XL" to denote their iPad version or simply creating a universal build so that both the iPhone and iPad versions are contained in a single app. There are probably many more titles in the database that have been approved by Apple for the iPad that we haven't yet stumbled upon.
Mερικά από τα games που διέρευσαν – οπότε και αναμένεται να κυκλοφορήσουν άμεσα με την διάθεση του iPad – είναι τα παρακάτω:
Ammoin HD
Azkend HD
Flight Control HD
Grind HD
Labyrinth 2 HD
NBA Hotshot HD
Numba HD
Plants vs. Zombies HD
Sparkle HD
Worms HD
Προφανώς, οι εφαρμογές δεν είναι ακόμα διαθέσιμες για κατέβασμα μέσω του App store. Κλίκαροντας πάνω στις εφαρμογές θα εμφανιστεί το μύνημα:
"the item you've requested is not currently available in the US store."
Συζήτηση στο forum: iPad games leak out
About Giannis Papanastasopoulos