Το PwnTunes είναι μία εφαρμογή που κυκλοφόρησε πρόσφατα και υπόσχεται να λύσει το πρόβλημα της μεταφοράς μουσικής (αλλά και λοιπών αρχείων) από και προς τον υπολογιστή σας χωρίς την χρήση του iTunes!
Το Pwntunes είναι συμβατό μόνο με Windows (Windows 7, Windows Vista και Windows XP).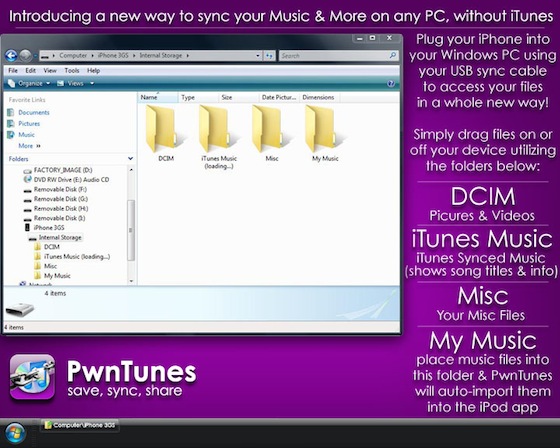 PwnTunes features:

Drag&Drop Music Import/Export without iTunes

If you don't like iTunes now you can simply ignore it – and have your Music with you anyway!
Now you can import Music from all your friend's PCs without loosing Music already on device.

Access iTunes Music from any PC without iTunes

Now you can share all your Music with all your friends – as simple as with every USB-Stick / MP3-Player.
Now you can backup your iTunes Music to another PC.

Use iPhone/iPod/iPad as USB-Stick for any Files

Now you can take advantage of the iDevice's harddisk as a USB-Stick and take all your Files with you – and leave that little ugly USB-Stick at home.

No extra Software on PC required

All this is as easy as plugging the USB cable into any PC.
Περισσότερες πληροφορίες για το PwnTunes μπορείτε να βρείτε στο επίσημο webiste της εφαρμογής: link
Συζήτηση στο forum: PwnTunes
About Vasilis Ananiadis
Ο ζωντανός θρύλος της Ελληνικής blogόσφαιρας, ο αβυσσαλέος master του SEO, o πρίγκηπας των Social Media, ο τυφώνας των Web Startups, ο οργασμός της ιντερνετικής επιτυχίας. Τώρα και στο twitter: @vananiadis